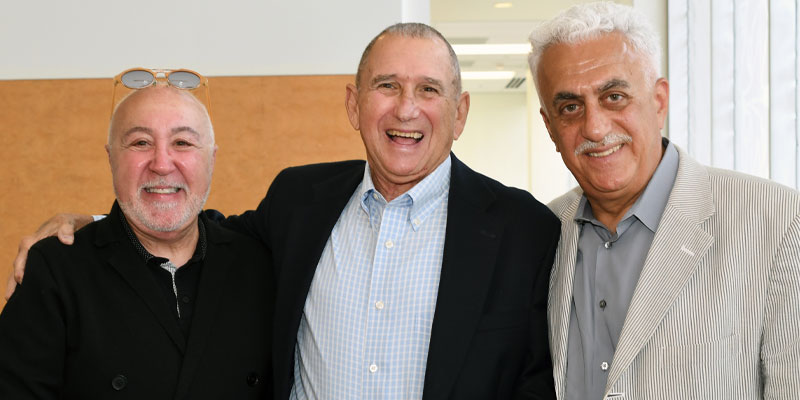 By Courtney Morris
Average height with a shock of wavy black hair and a contagious grin under his mustache, Hamid Nossrat hardly looked intimidating. But it was the tennis racket he was brandishing that alarmed the woman on the tractor.
Finally, she realized Nossrat was signaling and cut the engine. Mission explained, the San Jacinto College student and groundskeeper were soon touring the Central Campus, searching for a spot for the Baha'i Club to plant a tree.
In 1976, the club members planted the now long-gone mimosa tree with a plaque outside the library. Exactly 46 years later – April 21, 2022 – they reunited to dedicate nine new plaques honoring world unity.
Flowers for a green campus
Nossrat helped start San Jac's Baha'i Club in 1976. The club welcomed those from or interested in this faith, which promotes the unity of all people and religions and champions education as a barrier-breaker. Members met on Thursdays to mingle and plan activities.
Impressed by their involvement, then-president Dr. Thomas Spencer asked them to usher in graduates during a commencement ceremony.
"We were smaller than other clubs but more active than many, according to Dr. Spencer, who recognized and appreciated that," Nossrat said. 
New to Houston and practically living on campus, club members wanted to beautify their home.
"The campus was so beautiful and the layout so nice, but we didn't have any flowers — nothing that bloomed," Nossrat said.
Two bake sale fundraisers later, they had scraped together the funds for a mimosa tree and plaque, and with Spencer's permission, they held a tree planting ceremony.
Warm welcome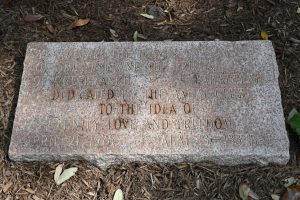 San Jac connected these students. Some had faced persecution in other countries, but all found a home at the Central Campus.
Nossrat enrolled in San Jac's restaurant management program. Graduating from a West Germany university and studying in England made him one of the few members fluent in English.
Kamran Mouzoon, who came from Tehran, Iran, took ESL and basic courses at San Jac before pursuing architecture at the University of Houston. Nossrat coached him and the others in English skills.
"Because we were new in this country, our language and capacity were very limited," Mouzoon said. "It takes a while to absorb the language. Hamid was instrumental in making sure the club moved forward."
Mouzoon recalls his culture shock. He once hitched a ride in a pickup only to discover he couldn't understand the driver's drawl. He also learned about Thanksgiving after spying apartment neighbors toting casseroles and pies.
While finding their feet in a new culture, Mouzoon and the others found a safe home at San Jac.
"As we came to classes and participated in the life of the campus, it made us a lot more comfortable, and we felt we belonged in this environment," he said.
Save the date: 2067
Today, many of the original club members not only boast advanced degrees but also have become successful global citizens.
Together, they returned to the Central Campus library to dedicate new plaques where the mimosa once stood. April 21 marks not only the Baha'i's most important holy day but also the United Nations' World Peace Day.
Because of a production issue, the plaques were not ready for the reunion, but College leaders, faculty, and guests from around the world joined to celebrate.
"We are honored to show our support for these alumni and celebrate our commitment to unity and solidarity in our efforts to make our community and the world a safer, more equitable place," Dr. Laurel Williamson, deputy chancellor and president, said.
Mouzoon, a Houston architect, designed the metal plaques, which will bear the Baha'i faith's nine tenets:
Oneness of God

Oneness of all religions

Oneness of mankind

Equality of rights for men and women

Elimination of prejudices of all kinds

Harmony of science and religion

Independent investigation of truth

Education for all

Protection of all cultural diversity
For Mouzoon, education plays a valuable role in every life from the cradle to the grave.
"Education is the way to eliminate prejudice worldwide," he said.
Nossrat added that "education is our duty and its performance a worship for humanity."  Recalling the original tree planting, he asked guests to mark their calendars for the next reunion: April 21, 2067.
"Let's all promise we will meet here again in 45 years," he said, a twinkle in his eye. "Don't be late." 
For the event photo album, visit bit.ly/3FvoURH.