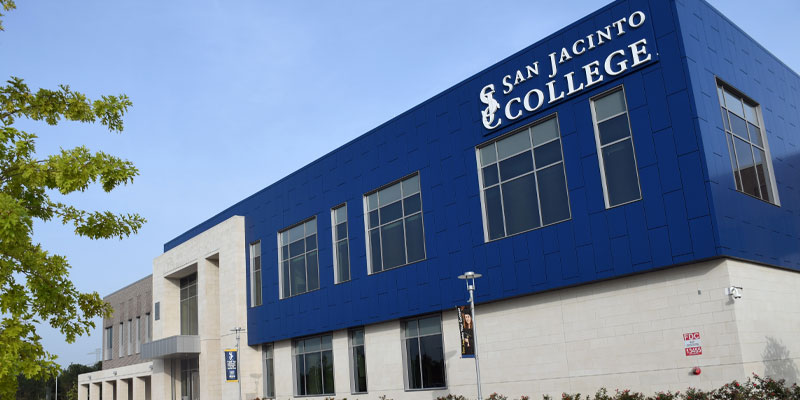 By Jacquelynn Conger
During the 2021-2022 academic year, San Jacinto College celebrated 60 years of service through education, partnerships, and growth in East Harris County.
The College opened in September 1961 in a rented storefront in downtown Pasadena. By the end of the first week, San Jac had an enrollment of 876 students. Today, it boasts an enrollment of more than 41,000 credit and non-credit students each year and has grown to be a Top 5 community college in the nation.
Over the decades, the College expanded to five campuses across the East Harris County area, including the newest addition, Generation Park, in the Lake Houston area. Situated on a beautiful 57-acre lot, Generation Park features a 55,000-square-foot facility that houses general education and academic classes.
San Jac has increased its offerings to more than 200 degrees and certificates across eight major areas of study, including university transfer courses, workforce certificates/training, and Associate of Arts, Associate of Science, and Associate of Applied Science degrees. Nursing, one of the College's original programs, recently expanded to include a Bachelor of Science in Nursing degree. The program saw its first cohort graduate in December 2021.
San Jac celebrated the culmination of its 60th year with the "Step Brightly Into the Future" Gala presented by LyondellBasell and the Sinor Family. The gala took place Friday, May 20, at the LyondellBasell Center for Petrochemical, Energy, & Technology at the Central Campus. Generous donors gave more than $430,000 for the Student Success Endowment Fund supporting Promise @ San Jac scholarships.
"Thank you to everyone who sponsored and attended this year's gala," said Teri Crawford, San Jacinto College Foundation executive director. "With the support of these generous donors, the Promise @ San Jac scholarships will allow all in-district high school seniors to earn an associate degree or workforce certificate at San Jac without having to worry about the cost of tuition or books."
You too can make debt-free college available to an in-district high school graduate by joining the Promise Partners.  
Learn more at sanjac.edu/promise-partner.