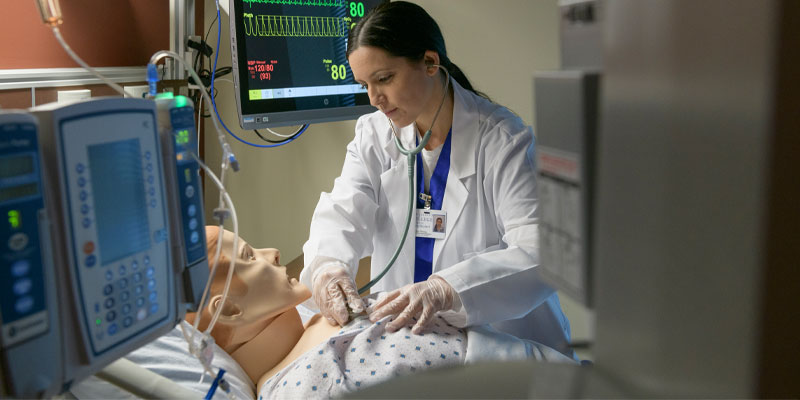 At San Jacinto College, our mission is to ensure you succeed and to empower you to achieve your goals, redefine expectations, and explore new opportunities. 
With eight career pathways, you can equip yourself with the training and tools to succeed in a career, find your place in the world, and pursue the life you've always wanted. If you plan to earn an associate degree and transfer to a four-year university, we can help you along your path. If career training for a certificate or associate degree is more your focus, we can help you find the program that is right for you. Before you register for classes, you should discuss your career goals with a San Jac educational planner. We'll make sure you're selecting courses that meet the curriculum requirements of the certificate or associate degree you want to earn or four-year university you plan to attend. Learn more at sanjac.edu, or call 281-998-6150 to speak with an educational counselor. 
Art, Humanities. Communication, and Design
Art and Design

Audio Engineering

Communications

Dance

English

Interior Design

Modern Languages

Music

Speech

Theatre and Film
Career Opportunities
(some may require a bachelor's or master's degree)*
Broadcast Technician $39,528
Choreographer $63,520
Editor $65,203
English Language and Literature Teacher, postsecondary $77,325
Film and Video Editor $50,756
Graphic Designer $51,198
Interior Designer $62,865
Interpreter/Translator $53,173
Lighting Technician and Media and Communication Equipment Workers $89,064
Special Effects Artist and Animator $63,904
Music Teacher, postsecondary $75,285
Music Directors and Composers $61,970
News Analysts, Reporters, and Journalists $54,664
Producers and Directors $61,873
Proofreaders $38,061
Public Relations Specialist $62,598
Sound Engineering Technician $53,662
Technical Writer $67,835
Business
Accounting

Business Administration

Business Management

Business Office Systems and Support

Economics

Entrepreneur

Long Term Care Administration

Paralegal

Real Estate
Career Opportunities
(some may require a bachelor's or master's degree)*
Bookkeeping, Accounting, and Auditing Clerk $44,878
Budget Analyst $90,730
Credit Analyst $81,737
Executive Administrative Assistants $65,160
Insurance Underwriters $73,078
Paralegal and Legal Assistant $53,406
Production, Planning, and Expediting Clerk $52,206
Real Estate Sales Agent $62,273
Real Estate Broker $85,751
Human Resources Specialist $71,357
First-Line Supervisors of Retail Sales Workers $48,101
Project Management Specialist $90,554
Construction, Industry Manufacturing, and Transportation
Air Conditioning Technology (HVAC)

Automotive Collision Repair

Automotive Technology

Biomedical Clinical Equipment Technician

Construction Management Technology

Diesel Technology

Electrical Technology

Electronics Technology

Environmental Health and Safety Technology

Global Logistics and Supply Chain Management

Instrumentation

Maritime Transportation

Non-destructive Testing

Pipefitting

Process Technology

Welding Technology
Career Opportunities
(some may require a bachelor's or master's degree)*
Automotive Body and Related Repairer $46,262
Automotive Service Technician and Mechanic $47,795
Bus and Truck Mechanics and Diesel Engine Specialist $51,240
Captains, Mates, and Pilots $81,292
Chemical Plant and Systems Operators (Process Technology) $74,656
Construction Managers $99,661
Electrician $53,300
Environmental Science and Protection Technician (including health) $50,285
Heating, Air Conditioning, and Refrigeration Mechanic and Installer $54,806
Medical Equipment Repairer $56,825
NDT Technician Level I $74,392
Occupational Health and Safety Technician $53,350
Plumber, Pipefitter, and Steamfitter $55,231
Sailors and Marine Oilers $47,596
Welder, Cutter, Solderer, and Brazer $51,146
Education
Child Development / Early Childhood Studies Teaching
Career Opportunities
(some may require a bachelor's or master's degree)*
Child Care Workers $23,385
Elementary School Teacher (except special ed) $58,773
Education Administrator, Preschool, and Child Care Center $61,518
Preschool Teacher $44,626
Secondary School Teacher (except special ed) $60,510
Substitute Teacher $48,806
Teaching Assistant (except postsecondary) $22,726
Vocational Education Teachers, secondary $61,717
Health Sciences
Cancer Data Management

Diagnostic Medical Sonography

Emergency Medical Services

Eye Care Technology

Health Information Management

Medical Assisting

Medical Billing

Medical Coding

Medical Laboratory Technology

Medical Radiography

Mental Health Services

Nursing

Occupational Therapy Assistant

Personal Trainer

Pharmacy Technician

Physical Therapist Assistant

Respiratory Care

Surgical Technician
Career Opportunities
(some may require a bachelor's or master's degree)*
Certified Ophthalmic Assistant $42,500
Certified Ophthalmic Technician $51,733
Certified Tumor Registrar $54,049
Diagnostic Medical Sonographer $71,380
Emergency Medical Technician and Paramedics $37,222
Fitness Trainers $46,868
Licensed Practical and
Licensed Vocational Nurse $48,968
Medical Assistant $36,158
Medical and Clinical Laboratory Technicians $53,884
Medical Records and Health Information Technician $47,459
Occupational Therapy Assistant $78,963
Pharmacy Technician $37,328
Physical Therapist Assistant $80,499
Radiologic Technologist $63,958
Registered Nurse $84,858
Respiratory Therapist $62,404
Substance Abuse, Behavioral Disorder, and Mental Health Counselor $51,439
Surgical Technologist $54,165
Public Safety, and Human/Consumer Services
Chef Training

Cosmetology

Criminal Justice

Fire Protection Technology

Massage Therapy

Pastry Chef

Personal Trainer

Restaurant Management
Career Opportunities
(some may require a bachelor's or master's degree)*
Baker $26,016
Chefs and Head Cooks (including Pastry Chefs) $57,417
Firefighter $54,145
Food Service Manager $58,738
Hairdressers, Hairstylists, and Cosmetologists $24,617
Massage Therapist $39,093
Private Detectives and Investigators $50,805
Probation Officers and Correctional Treatment Specialists $48,239
Skin Care Specialists (Esthetician) $48,952
Science, Technology, Engineering, and Math (STEM)
Biology

Chemistry

Cloud Computing

Computer Science

Computer Simulation and Game Design

Cyber Security

Desktop Support and Network Administration

Engineering

Engineering Design Graphics (Drafting)

Environmental Science

Geology

Mathematics

Microsoft and CISCO

Physics

Web Design
Career Opportunities
(some may require a bachelor's or master's degree)*
Accountant and Auditor $83,66
Agricultural and Food Science Technicians $41,404
Architectural and Civil Drafter $59,421
Chemical Engineer $147,023
Civil Engineer $99,583
Computer Network Support Specialist $80,283
Database Administrators $103,714
Environmental Engineering Technician $62,136
Information Security Analyst $118,476
Mechanical Drafter $64,122
Computer Network Specialist $75,268
Software Developers (Applications) $109,513
Web Developer and Digital Designer. $73,192
Computer Programmers $103,555
Computer User Support Specialist $51,748
Social and Behavioral Science
Anthropology

Government

History

Philosophy

Psychology

Sociology
Career Opportunities
(some may require a bachelor's or master's degree)*
Anthropologists and Archeologists $79,007
Clinical, Counseling, and School Psychologists $80,459
Mental Health Counselors $51,439
Clergy $60,981
Museum Technicians and Conservators $39,636
Psychologists $106,021
Philosophy and Religion Teachers (postsecondary) $55,802
Political Scientists $90,752 (statewide)
Sociology Teachers (postsecondary) $80,632
Social Science Research Assistants $36,902
Noncredit Classes for Professional and Life Long Learners
Whether you're preparing for a career or picking up a new hobby, the San Jacinto College Continuing and Professional Development Division offers a variety of noncredit courses for workforce training and lifelong learning. Workforce courses keep employees up to date on the latest industry technology and are available through contract training, open enrollment, and grant funding. Not only does the division provide vital training for workers, but you can enjoy picking up new skills you've been eager to learn. CPD offers lifelong learning courses to promote leisure learning and to help you extend your horizons. To learn more, visit sanjac.edu/cpd.
Workforce Development and Job Training

Applied Technology and Trades

Business and Professions

Computers, IT, CNC, PLC, and Robotics

Health Occupations

Maritime

Corporate Training and Consulting

Task/Job/Organizational Performance Analysis

Training Needs/Gap Analysis

Measuring Training Effectiveness and ROI

Implementing Effective On-the-Job Training Apprenticeships

Transitioning Training from a Functional Unit to a Business Unit

Train-the-Trainer for Regulatory Compliance

Strategies for Selecting, Training, and Qualifying Shift/Relief Supervisors

Approaches to Team Training and Diagnostics

Organizational and Human Performance Needs Assessments

Community Programs

Aerospace Education and Workforce

Education

Life Long Learning

Youth Programs

Grants

Adult Education and Literacy

Health Career Pathways Partnership Grant

TPEG

TWC Business Funding Opportunities