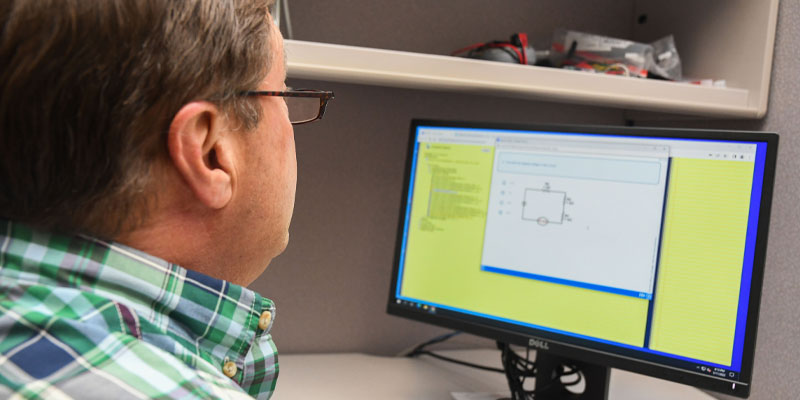 By Melissa Trevizo
San Jacinto College and the Bay Area Houston Advanced Technology Consortium, or BayTech, seek candidates for the Wagner-Peyser grant for aerospace technician readiness.
Training takes place at San Jac's EDGE Center, the official education training partner for the Houston Spaceport at Ellington Airport.
The grant covers 100% of tuition and nationally recognized certifications through CertTEC for eligible students.
Administered by the Texas Workforce Commission, the $324,029 grant is funded through the office of Gov. Greg Abbott and the Texas Workforce Investment Council. It covers up to 50 participants. To be eligible, you must be:
Unemployed

Either a U.S. citizen or authorized to work in the U.S.

At least 17, registered in selective service (if male), and ready to work
The EDGE Center offers two tracks through the grant: certified composite manufacturing technician and certified basic electrical technician. Each track takes six to eight weeks to complete and uses online learning in a 75/25 model for composite manufacturing and 50/50 for basic electrical. Face-to-face tutoring is offered at least once a week.
Acceptance into the program requires candidates to be self-motivated and persistent to complete the fast-paced programs successfully.
One graduate who learned this firsthand is Christian Longoria, an Air Force veteran. In 2016, after an honorable discharge, Longoria earned his airframe and powerplant certificate and started his career with General Atomics, deploying to Afghanistan with the company at least six times.
"Unfortunately, my career ended in 2021 due to workforce reduction," Longoria said. "I joined the BAHEP Cares veteran mentoring program, and that's where I learned about BayTech's Wagner-Peyser grant with San Jac."
Longoria started at San Jac's EDGE Center in November 2021 and earned his basic electrical technician certificate this spring.
"The certification tests were tough. It's not just multiple-choice or memorization, it's about troubleshooting and knowing the content well," he said. "I have a lot of mechanical experience, but now adding the basic electrical certification to my resume makes me more marketable to employers."
In May, Longoria started a new job in San Antonio working for Boeing on planes and helicopters in President Biden's executive fleet.
"So far, we've had more than 34 graduates enroll in our aerospace training program using Wagner-Peyser grant program. We've also had 13 graduates earn their certifications and interview for jobs," said Janis Fowler, San Jac's director of aerospace education and workforce. "I'm proud to say that we are already hearing back that some of those graduates, like Christian, have been hired and started working in the industry."
BayTech creates a pipeline of technician talent, working with industry partners to identify internships for grant participants and to help them find industry jobs.
"The need for aerospace manufacturing technicians is increasing at the Houston Spaceport," Fowler said. "Over the next year, an additional 800 jobs will open for technicians like those who train at San Jac's EDGE Center."
Currently, there are many slots available for participants in this year's electrical cohort. BayTech is optimistic that 50 more spots will open in September. 
To learn more about the
Wagner-Peyser grant, contact
Kylie Wischnewsky at
832-536-3242 or
[email protected].
To learn more about the
EDGE Center, visit
sanjac.edu/edge-center.