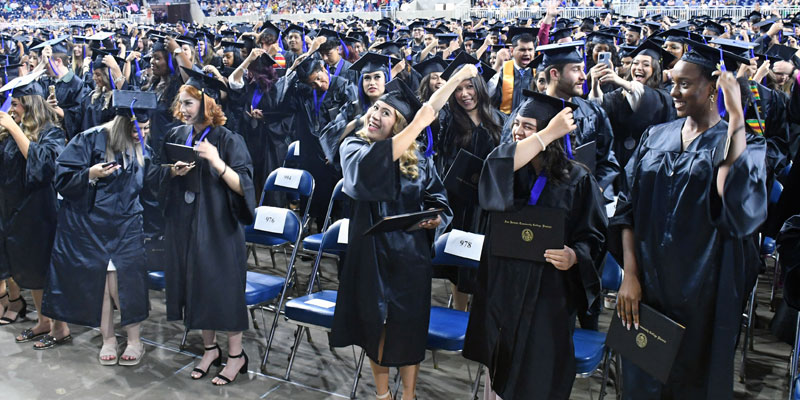 San Jac celebrates nearly 100,000 grads in 60 years
By Courtney Morris
From a humble beginning with five graduates 60 years ago, San Jacinto College launched 3,295 students into better careers and brighter futures this spring.
On May 13, a sea of black caps and gowns filled the floor of NRG Stadium for the College's spring 2022 commencement ceremony.
Sixty years ago, San Jac ended its first academic year with a graduating class of five students, all transfers from other colleges. This spring the College awarded nearly 4,000 degrees and certificates to students.
Since San Jac opened in a Pasadena storefront in fall 1961, almost 100,000 graduates have left the College empowered to achieve their goals and explore new opportunities.
Congrats to the class of 2022! For the photo album, visit bit.ly/3Pu9fq0.
San Jac hunting for a new mascot
By Jacquelynn Conger
The time has come. As one College with five campuses, extension centers, and a diverse community of students, employees, and alumni, San Jacinto College is transitioning from three mascots to one.
Historically, San Jac has had three campus mascots: the Central Campus Ravens, North Campus Gators, and South Campus Coyotes. While the Gulf Coast region's leader in higher education and workforce training, the College also boasts a rich athletic history. Its nationally ranked basketball, baseball, softball, volleyball, soccer, and track and field teams have produced 12 national championships and many celebrated professional athletes across several generations.
While remembering its storied past, San Jac looks forward to entering a new era with a new mascot.
This spring, the College welcomed new mascot suggestions. Submissions came from more than 1,400 people, including alumni, students, donors, employees, and community members, resulting in a wide range of ideas — from lions, jaguars, and eagles to ravens and supernovas and hundreds more.
The College's administration and Board of Trustees will narrow down the submissions before students, employees, and alumni cast their votes. The final decision will be announced in spring 2023. 
Learn more about the mascot search and timeline at sanjac.edu/mascot.