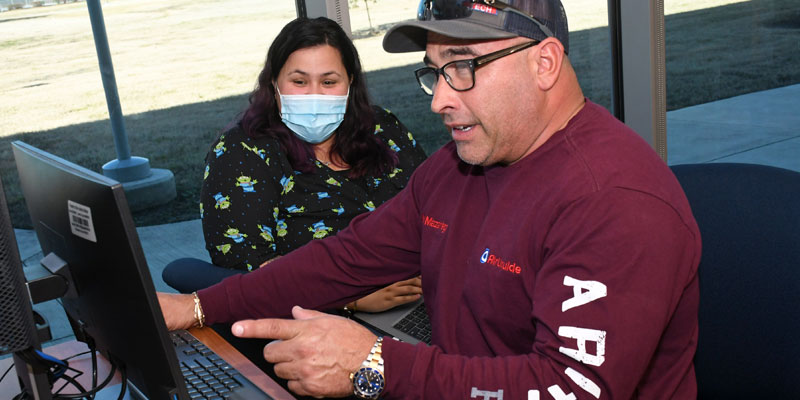 By Courtney Morris
Whether you've attended San Jacinto College several semesters or just applied, changes in student services will improve your journey from enrollment to transfer.
Beginning Oct. 1, the College restructured some departments and services to help you define your education goals, stay on target, and have advising support after office hours.
The student services changes include …
Career Services = Now Career and Transfer

Career Specialists = Now Career and Transfer Specialists

Educational Planning, Counseling, and Completion = Now Advising, Career, and Transfer

Educational Planners = Now Program Advisors

Student Engagement and Activities = Now Student Engagement and Support
Advising, career, and transfer department directors Chalen Rice and Adriana Elizondo share what these changes mean for you and how they'll boost your San Jac experience.
Q: Tell me about these changes.
Rice: We are streamlining the advising process for students and our teams. Many institutions are moving toward a case management model, which reduces how often students repeat their story and allows advisors to build rapport with students as they navigate college.
Elizondo: In October 2022, we launched Phase 1 — department name changes to ensure our names matched the services we're offering students. By end of spring 2023, in Phase 2, we'll begin assigning advisors to students in their appropriate program.
Q: I'm a current San Jac student. What changes will I see?
Rice: For consistency, you'll now have an assigned program advisor who is a content expert in your field. You can schedule online and in-person appointments to ensure a dedicated time to discuss your needs with your advisor.
Q: I'm new to San Jac. What can I expect?
Elizondo: During onboarding, you'll discuss your major and career goals with admissions while completing all enrollment steps. During your first semester, you'll see the first available program advisor, but your assigned program advisor — your go-to — will reach out before your second semester to introduce themselves and guide you throughout your academic journey.
Q: Will registration change?
Elizondo: You'll still register the same way, but we are thinking creatively how to offer different registration/advising opportunities for you to connect with us earlier. We want to make these processes easier and as beneficial as possible for you.
Q: How can career and transfer specialists help me?
Rice: They'll help you identify a program of study if you're still undecided with 30 credit hours or more. They'll also help you prepare for job interviews and transition to the workforce or transfer to a college or university to continue your studies.
Q: Will mental health counseling look different?
Rice: Mental health counselors are still in our suites to give you the support you need, but their focus has shifted solely to mental health and outreach. They provide support groups on topics like managing mental health and creating balance and other opportunities for you to connect and engage.
Elizondo: Neurodiversity services is a new support office as well. It provides individual support to neurodiverse students, focusing on self-advocacy, self-management, and access to campus resources. Neurological differences can include autism, ADHD, dyslexia, and more.
Q: I'm busy during the day. What help can I get on weeknights and weekends?
Elizondo: We now offer virtual services during late-night hours to be more accessible for you.  These new positions include two full-time and two part-time virtual advisors who can help any student. For academic planning, you should still go to your assigned program advisor. But these virtual advisors can handle quick questions about registration, account holds, and degree plans.
Q: Anything else I should know?
Elizondo: Navigating college can feel overwhelming, but our student services staff are here to help you every step of the way. We're excited for these changes and hope they'll make your time here as seamless as possible.
Rice: We hope these changes will encourage you to connect with us throughout the year. We're here to help you navigate your college experience from the time you begin at San Jac until you transition to whatever comes next. We do more than help you select classes — we point you in the right direction. 
Virtual Advising 101
Have a quick question after office hours? Virtual advisors can help Monday – Thursday, 2-11 p.m., and Sunday, 5-10 p.m.:
Visit the live virtual lobby (www.whos-next.com/sanjac/actvirtual).

Sign yourself in.

A virtual advisor will send you a Zoom link.
Also check out the live chat option in your SOS account.