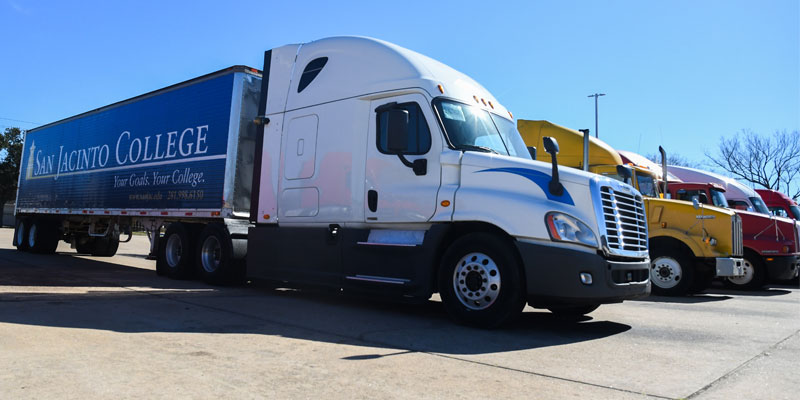 By Melissa Trevizo
Truck driving is in high gear at San Jacinto College thanks partly to the Fast Track tuition discount program, which covers 100% of costs for programs that can be completed in less than a year.
The truck driving program has been at capacity for more than a year with potential students waitlisted for enrollment. Why else would the program fill so quickly? Industry need.
The American Trucking Association projects that trucking companies will need to hire nearly 1.2 million drivers over the next decade. Part of that is attributed to a rapidly aging workforce: The average age of long-haul truck drivers is 46, according to the group.
To complete the course at San Jac, weekday students can expect six weeks of training, and weekend students can take up to 12 weeks.
To qualify for the program, applicants must:
Be at least 18 and pass a mandatory Department of Transportation drug test and medical examination

Provide adequate proof of competency in English or pass the English proficiency test

Have a valid Texas driver's license and Social Security number

Be legally able to travel throughout Texas

Possibly provide an original or certified copy of a birth certificate
"The full cost of the course is around $4,300," said Dr. Ken Tidwell, dean of continuing and professional workforce development. "You can be out and working in a matter of weeks and making $50,000. That makes a great investment."
With the success of the commercial driver license truck driving program, Tidwell announced the inception of a new program for the division beginning this spring: CDL Class B Bus driving.
"Interest has grown among government entities and local school districts for a bus driving program at San Jac," Tidwell said. "Some of the larger school districts recruit and train their own drivers, but smaller districts don't have that capacity. By partnering with us, they can outsource the training and increase recruitment for new drivers."
Hand-in-hand with the new bus driving program comes innovative technology via the Virage Simulation VS600M truck simulator.
The simulator offers full application of virtually any type of heavy vehicle from dump trucks, highway tractor-trailers, and semi-trailer applications to school buses. It comprises a 180-degree forward field of view plus rear-view mirrors with three high-resolution LCD displays.
"This new technology allows our students more practice time mastering maneuvers in backing, parking, and shifting in a virtual setting before entering the roadways," said Tony Rich, director of continuing and professional development applied trades and transportation. "Over 75% of the class is devoted to actual behind-the-wheel training. We believe this gives our students a huge advantage as they start their truck driving careers.
To learn more about the San Jac truck driving program, visit sanjac.edu/CDL.