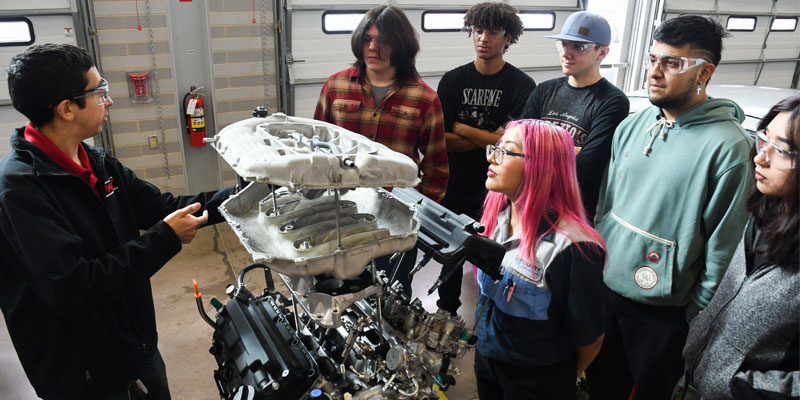 By Melissa Trevizo
When 22-year-old San Jacinto College student Yisel Gutierrez was younger, her brother introduced her to the world of custom cars. The car that sparked her interest? A Blue 1967 Camaro Super Sport.
"I loved the look of these vintage and custom cars, but I had to put it out of my mind," Gutierrez said. "My mom was very strict and didn't think working on cars was a good idea for a girl. As I grew up, I always had my eye on cars, but I thought it wasn't possible for me."
Looking to find a successful career in an industry that would please her parents, Gutierrez pursued medical assisting through dual credit and completed the certificate program at San Jac.
"During my clinical hours I realized that it wasn't something I could see myself doing for a career," she said. "I didn't know what was coming next, but I knew this wasn't it for me."
Lost on what she should do, Gutierrez enlisted in the U.S. Marine Corps. During boot camp just before the crucible — the final 54-hour training exercise that validates the physical, mental, and moral training recruits are put through to solidify their entry into the Marines — Gutierrez was injured.
"I was dropped, and I came home a little defeated," she said. "But then I realized that I was holding my own the whole time during boot camp. If I hadn't been injured, I would still be there today. It lit a fire in me to pursue my passion. I knew I had to follow my dream despite what anyone thought."
Gutierrez bought a 1999 Honda Civic as a project car to learn on and taught herself to drive for the first time with a manual transmission.
"Eventually my mom saw the passion I had for working on my car, and she realized it wasn't going away," she said. "Seeing me so happy to dig in 'with the boys' made her understand that this is something I truly love, and it makes me happy."
Eager to learn more about her car and pursue a career in the auto industry, Gutierrez found San Jac's Honda Professional Automotive Career Training Program. She enrolled in spring 2022 and hasn't looked back since.
"My younger self would be so excited to see that I'm in the shop every day working with cars and learning so much," she said. "One of the first things I learned was about the car's electrical system. I was able to apply that lesson and fix something in my car right away."
As one of the only girls in the program and without much prior experience, Gutierrez was nervous about acceptance from her fellow students.
"Walking in the first day, I was worried that some of these guys would already know so much from working on cars their whole lives," Gutierrez said. "They all welcomed me right away and showed me how to use the tools and the equipment in the shop. The instructors and students have been nothing but welcoming."
Manit Bunnimit, San Jac's Honda PACT program coordinator, counts Gutierrez as one of his best students.
"Yisel can take in a lot of information and retain it well," Bunnimit said. "A lot of the time in class she is someone I can rely on to help demonstrate skills to her fellow students. I'll ask her to step in and work one-on-one with someone while I'm with other students."
Once she graduates, Gutierrez aims to gain experience at a Honda dealership and eventually work toward her dream.
"One day I want to open a shop run completely by women," she said. "My sister and my mom have been taken advantage of while getting their cars serviced, and I've taught them what to look out for to make sure their concerns are legit. I want to create a space where women can take their cars and trust that they will be taken care of."
Learn more about the Honda PACT program at sanjac.edu/program/automotive-technology.