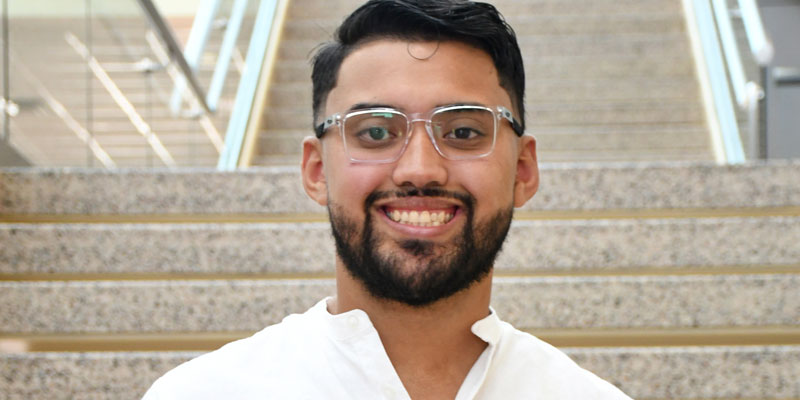 By Courtney Morris
In that moment between chucking your pillow at the alarm and sliding your feet from covers to carpet,
you pause.
"What am I doing with my life?"
Jorge Medellin asked that question. Three years after high school, he was still working at the chemical plant where he had interned. He wanted to reach higher for his family and community.
So Medellin pivoted. Today, not only has he finished two semesters of San Jacinto College's engineering program. Thanks to perfect timing, he also numbers among the College's first students pursuing Rice University through the new Take Flight STEM Pathway.
Launching into higher degrees
Established in spring 2022, Take Flight is for high-achieving San Jac and Lone Star College students exploring science, technology, engineering, and math fields. It aims to increase STEM engagement and position community college students to pursue higher degrees at top universities.
How does it work? If you're a strong freshman pursuing a STEM degree, San Jac's honors program may identify you to pursue Take Flight.
You'll participate in …
Virtual information sessions with Rice admissions, engineering/natural science schools, and student organizations

Summer STEM seminars

Academic conferences with industry networking

A Take Flight day with visits to a Rice classroom, residential college, and undergraduate research symposium

Research presentation opportunities
If you want to apply to Rice, you'll also complete …
Core STEM courses and a San Jac associate degree with advising from both schools

A research experience for undergraduates, or REU

A summer transition program
This past summer, Medellin participated in Rice's Nanotechnology Enabled Water Treatment REU, which grew his communication and determination. He sees the experience as a launch pad rather than a landing.
"I came out more eager to get done what I need to get done," he said. "I have to work harder and be more focused to be at the level of Rice, my dream school."
Preparing for takeoff
For the past 15 years, Rice has brought community college students like Medellin on campus for REUs. Faculty encouraged Rice leaders to expand that partnership.
In fall 2020, San Jac and Rice began discussing how to meet the national need for more STEM graduates together.
"Not getting accepted into a four-year school is a common misconception about why students choose community college," said Dr. Rachel Garcia, San Jac's associate vice chancellor of teaching and learning. "We have high-achieving students with 4.0 GPAs whom we need to serve and help achieve their academic goals."
The conversation went from growing students' research skills to preparing them to transfer to institutions like Rice, which has accepted few community college transfers.
"What the board, provost, and I have put at the forefront is getting the talent from our own backyard," Dr. Matthew Taylor, Rice's associate provost, said. "We have good community colleges in town with good honors programs and first-generation, low-income students. We should look for that talent and develop that talent."
Enter Take Flight.
Reaching higher
When Medellin thought about getting into a competitive REU, three words came to mind: "There's no way." Then, hands shaking, he opened the acceptance email on his phone.
"A lot of times, we know what we want, but we can't see it," he said of his REU. "If you can see these doctors and engineers at work — and work alongside them – you can see yourself there."
Medellin will be the first in his family to finish an associate degree. The first to apply to a top university. The first to pursue a career in electrical engineering and research.
Perhaps next spring, hands shaking, he'll be opening a Rice acceptance letter. 
Earning a Higher Degree at a Lower Cost
Interested in Take Flight? Not only does San Jac offer low tuition, but through its Rice Investment financial aid program, Rice University covers …
Full tuition, fees, room, and board for students from families with incomes and assets below $75,000/year

Full tuition for incomes below $140,000

100% of demonstrated need for families outside the income ranges
Learn more about Take Flight at sanjac.edu/honors or stempathway.rice.edu.