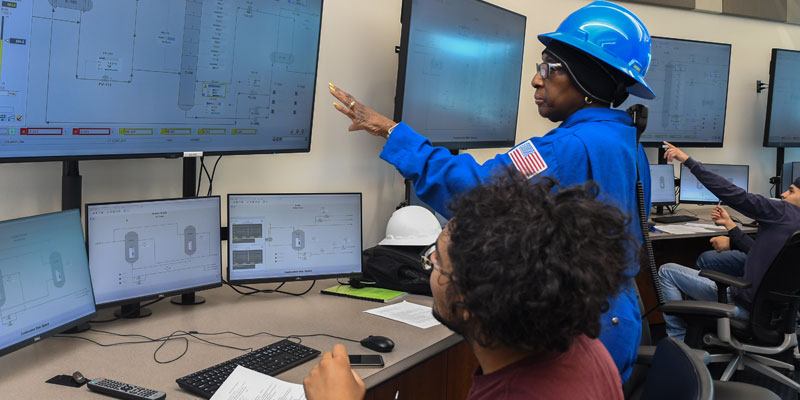 By Neesha Hosein
With 48 years in the petrochemical workforce, Linda Brown has witnessed an evolution of change in the industry — more women, technology, and safety in the workplace.
Brown, a San Jacinto College process technology adjunct professor for 17 years, uses her hard-earned knowledge to train process technicians how to work safely and efficiently.
Teaching at San Jac is her "love job." She relishes the opportunity to help others succeed.
"I train students to understand fundamental basics to become a process technician in the refinery and petrochemical environment," Brown said. "That includes things like how to open and close valves, how a process system works, how units operate, safety, personal protective equipment, and routine maintenance."
More than just an income
Salary draws many to petrochemical careers. Brown teaches there is more to this field than the money.
"First night of class, I scare them on purpose so they know the gravity of this career," Brown said. "I tell them if you do the wrong thing you can jeopardize your life and lives around you, including the community."
If students express self-doubt, Brown tells them "bear with me for about two weeks," after which most stick with the program. Brown considers the course evaluations proof that students are learning a lot and enjoying her classes.
It wasn't always easy
Brown worked as a keypunch operator at NASA in the 1970s during the Apollo era. After a layoff, a recruiter told her about an industry position for which they wanted women to apply. Her husband, Jesse, a plant operator, was her inspiration for embracing the opportunity. She was one of only four women hired as a process operator at Charter Oil Refinery.
Although most of her male counterparts were unkind and management tried to talk her out of staying, Brown stuck with it, passed the probationary period, and became a permanent employee. While working full time and raising a family, Brown earned her bachelor's degree from the University of Houston.
"Being a female in this industry has made me challenge myself a lot," she said. "I got to a point when I knew more than the men around me. Knowledge is power, and they could not manipulate me. That's a driving force."
Knowledge and experience mean everything
Brown can boast several firsts.
"I am the first female to become a chief operator on a fluidized catalytic cracking unit on the Houston Ship Channel," she said. "I am the first female to become a process expert lead supervisor in charge of four refinery operating units in southern California and to become a refinery shift foreman responsible for operating the facility on the Houston Ship Channel."
The Crown Central Petroleum refinery management team and employees named their Linda Brown Training Center in her honor.
Brown is proud to see how times have changed for the better.
"The tides have turned," she said. "It's much better today. The Equal Employment Opportunity Commission upholds regulations, and all the things I've experienced are no longer tolerated. I feel like I'm treated as a professional. Process technology is amazing."
Learn more about San Jac's process technology program at sanjac.edu/program/process-technology.