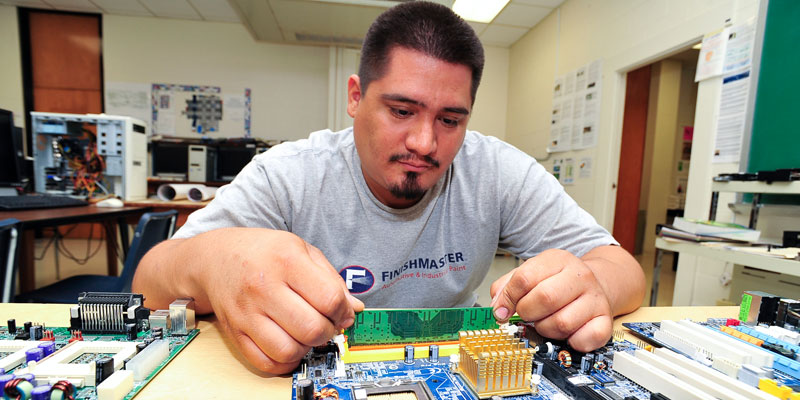 At San Jacinto College, we empower you to achieve your goals, redefine expectations, and explore new opportunities. With our 200-plus degrees and certificates across eight areas of study, you can get the training and tools to find a rewarding career and pursue the life you've always wanted.
Before registering, discuss your career goals with a San Jac advisor. Whether you pursue workforce training or earn an associate degree to transfer, we'll connect you to the program that's perfect for you. Learn more at sanjac.edu or call us at 281-998-6150.  
Art, Humanities, Communication, and Design
Art and Design

Audio Engineering

Communications

Dance

English

Interior Design

Modern Languages

Music

Speech

Theatre and Film
Career Opportunities

(some may require a bachelor's or master's degree)*
Art, Drama, and Music Teachers (Postsecondary) $76,793
Broadcast Technicians $40,050
Choreographers $50,323
Editors $58,786
English Language and Literature Teachers (Postsecondary) $78,129
Film and Video Editors $51,822
Graphic Designers $47,943
Interior Designers  $60,798
Interpreters/Translators $43,179
Lighting Technicians $50,000
Media and Communication Equipment Workers $57,861
Music Directors and Composers $78,581
News Analysts, Reporters and Journalists $54,920
Producers and Directors $57,874
Proofreaders and Copy Markers $36,483
Public Relations Specialists $59,635
Sound Engineering Technicians $61,800
Special Effects Artists and Animators $62,244
Technical Writers $77,026
Business
Accounting

Business Administration

Business Management

Business Office Systems and Support

Economics

Entrepreneur

Long Term Care Administration

Paralegal

Real Estate
Career Opportunities

(some may require a bachelor's or master's degree)*
Accountants and Auditors  $79,540
Bookkeeping, Accounting, and Auditing Clerks $46,117
Budget Analysts $89,086
Credit Analysts $74,966
Executive Secretaries and Executive Administrative Assistants $61,638
First-Line Supervisors of Retail Sales Workers $42,572
Human Resources Specialists $61,567
Insurance Underwriters $75,191
Paralegals and Legal Assistants  $59,375
Production, Planning, and Expediting Clerks $48,087
Project Management Specialists $97,802
Real Estate Brokers $58,317
Real Estate Sales Agents $38,337
Construction, Industry Manufacturing, and Transportation
Air Conditioning Technology (HVAC)

 

Automotive Technology

Biomedical Clinical Equipment Technician

 

Construction Management Technology

Diesel Technology

Electrical Technology

Electronics Technology

Environmental Health and Safety Technology

 

Global Logistics and Supply Chain Management

Instrumentation

Maritime Transportation

Non-destructive Testing

Pipefitting

Process Technology

Welding Technology
Career Opportunities

(some may require a bachelor's or master's degree)*
Automotive Body and Related Repairers $46,837
Automotive Service Technicians and Mechanics $46,706
Bus and Truck Mechanics and Diesel Engine Specialists $49,625
Captains, Mates, and Pilots of Water Vessels $111,098
Chemical Plant and Systems Operators (Process Technology) $81,190
Construction Managers $98,969
Electricians $52,204
Environmental Science and Protection Technicians (Including Health) $49,830
Heating, Air Conditioning, and Refrigeration Mechanics and Installers $49,087
Medical Equipment Repairers $54,966
NDT Technicians Level I $74,392
Occupational Health and Safety Technicians $56,766
Plumbers, Pipefitters, and Steamfitters . $56,182
Sailors and Marine Oilers $46,794
Welders, Cutters, Solderers, and Brazers $49,118
Education
Child Development / Early Childhood Studies

 

Teaching
Career Opportunities

(some may require a bachelor's or master's degree)*
Career/Technical Education Teachers (Secondary) $62,424
Child Care Workers $22,752
Education and Child Care Administrators, Preschool and Daycare $51,458
Elementary School Teachers (Except Special Ed) $62,424
Preschool Teachers (Except Special Ed) $28,696
Secondary School Teachers (Except Special Ed and CTE) $62,424
Substitute Teachers (Short-term) $28,558
Teaching Assistants (Except Postsecondary) $23,243
Health Sciences
Cancer Data Management

Diagnostic Medical Sonography

Emergency Medical Services

Eye Care Technology

Health Information Management

Medical Assisting

Medical Billing

Medical Coding

Medical Laboratory Technology

Medical Radiography

Mental Health Services

Nursing

Occupational Therapy Assistant

Personal Trainer

Pharmacy Technician

Physical Therapist Assistant

Respiratory Care

Surgical Technician
Career Opportunities

(some may require a bachelor's or master's degree)*
Certified Ophthalmic Assistants $42,500
Certified Tumor Registrars $54,049
Clinical Laboratory Technologists and Technicians $55,323
Diagnostic Medical Sonographers $77,036
Emergency Medical Technicians $36,355
Exercise Trainers and Group Fitness Instructors $38,635
Health Information Technologists and Medical Registrars $74,805
Licensed Practical and Licensed Vocational Nurses . $50,912
Medical Assistants $36,763
Medical Records Specialists $43,571
Occupational Therapy Assistants $75,737
Ophthalmic Medical Technicians $36,156
Paramedics $40,495
Pharmacy Technicians $37,309
Physical Therapist Assistants $71,899
Radiologic Technologists and Technicians $62,881
Registered Nurses $78,962
Respiratory Therapists $64,236
Substance Abuse, Behavioral Disorder, and Mental Health Counselors $46,833
Surgical Technologists $58,436
Public Safety and Human/Consumer Services
Chef Training

Cosmetology

Criminal Justice

Fire Protection Technology

Massage Therapy

Pastry Chef

Personal Trainer

Restaurant Management
Career Opportunities 

(some may require a bachelor's or master's degree)*
Bakers $27,151
Chefs and Head Cooks (Including Pastry Chefs) $38,773
Firefighters $47,678
Food Service Managers $60,453
Hairdressers, Hairstylists, and Cosmetologists $26,374
Massage Therapists $42,861
Police and Sheriff's Patrol Officers $61,968
Private Detectives and Investigators $63,841
Probation Officers and Correctional Treatment Specialists $48,221
Skin Care Specialists (Estheticians) $36,360
Science, Technology, Engineering, and Math
Applications / Programming

Biology

Chemistry

Cloud Computing

Computer Science

Computer Simulation and Game Design

Cyber Security

Desktop Support and Network Administration

 

Engineering

Engineering Design Graphics (Drafting)

 

Environmental Science

Geology

Mathematics

Microsoft and CISCO

Physics

Web Design
Career Opportunities

(some may require a bachelor's or master's degree)*
Agricultural Technicians $35,334
Architectural and Civil Drafters $60,255
Chemical Engineers $154,811
Chemical Technicians $77,610
Civil Engineers $98,025
Computer Network Support Specialists $62,457
Computer Programmers $93,140
Computer User Support Specialists $48,391
Database Administrators $94,981
Environmental Engineering Technologists and Technicians $40,923
Food Science Technicians $39,434
Information Security Analysts $101,380
Mechanical Drafters $66,209
Software Developers (Applications) $102,567
Web and Digital Interface Designers $76,515
Web Developers $62,458
Social and Behavioral Science
Anthropology

Government

History

Philosophy

Psychology

Sociology
Career Opportunities

(some may require a bachelor's or master's degree)*
Anthropologists and Archeologists $60,924
Clergy $53,456
Clinical and Counseling Psychologists $78,994
Museum Technicians and Conservators $43,946
Philosophy and Religion Teachers (Postsecondary) $78,015
Political Scientists $95,888 (statewide)
Psychologists (All Other) $109,470
School Psychologists $78,749
Social Science Research Assistants $44,272
Sociology Teachers (Postsecondary) $77,327 
Noncredit Classes for Professional and Life Long Learners
Whether you're preparing for a career or picking up a new hobby, the San Jacinto College Continuing and Professional Development Division offers a variety of noncredit courses for workforce training and lifelong learning. Workforce courses keep employees up to date on the latest industry technology and are available through contract training, open enrollment, and grant funding. You can also pick up new skills you've been eager to learn. CPD offers lifelong learning courses to promote leisure learning and to help you extend your horizons. Learn more at sanjac.edu/cpd.
Workforce Development and Job Training
Applied Technology and Trades

 

Business and Professions

Computers, IT, CNC, PLC, and Robotics

 

Health Occupations

Maritime

Corporate Training and Consulting
Task/Job/Organizational Performance Analysis

 
Training Needs/Gap Analysis

 

Measuring Training Effectiveness and ROI

 

Implementing Effective On-the-Job Training Apprenticeships

Transitioning Training from a Functional Unit to a Business Unit

 

Train-the-Trainer for Regulatory Compliance

 

Strategies for Selecting, Training, and Qualifying Shift/Relief Supervisors

 

Approaches to Team Training and Diagnostics

 

Organizational and Human Performance Needs Assessments
Community Programs
Aerospace Education and Workforce

 

Education

 

Life Long Learning

Youth Programs
Grants
Adult Education and Literacy

 

Health Career Pathways Partnership Grant

TPEG

TWC Business Funding Opportunities