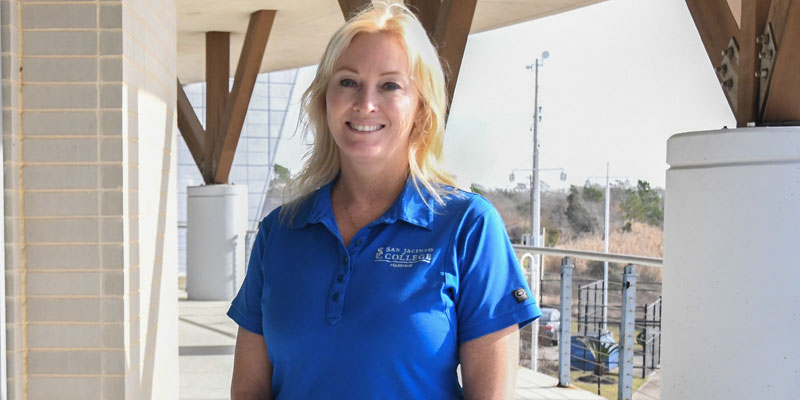 By Melissa Trevizo
Captain Amy Arrowood, San Jacinto College's director of the maritime credit program, has a career that spans more than 20 years. During that time, she served in the U.S. Coast Guard and sailed U.S. flag vessels coastwide and internationally.
A graduate of Texas A&M University-Galveston with a Bachelor of Science in marine transportation, Arrowood joined the Coast Guard as a commissioned officer in 2002. She counts many memorable experiences while being in port in 15 countries.
"Once, my ship traveled to the Marshall Islands in the central Pacific Ocean between Hawaii and the Philippines," she said. "It's a remote island that most mariners wouldn't get to see. Our ship was one of the largest to ever call in
that area."
She earned the U.S. Coast Guard Meritorious Team Commendation and Unit Commendation in 2004 and the U.S. Coast Guard Commendation Medal in 2005.
Dropping anchor at San Jac
Arrowood's connection to San Jac began in 2014, when she joined an advisory committee for the Maritime Technology and Training Center while working as a port captain and marine operations manager for J.A.M. Marine Services.
"Serving on the committee, I saw the architect's renderings for the building and got in early to set the foundation for what courses would be the most beneficial to our students," Arrowood said. "This facility and program were an answer to the needs of the industry to fill an educational gap for entry-level mariners."
After signing on as a maritime transportation program faculty member, she began teaching classes and curating curriculum in a temporary facility off State Highway 225 while the new center was under construction.
"It was a small program that filled up quickly, and I knew each of my students well," Arrowood said. "If they ever missed class, I was checking up on them to see if they were OK. Even now, if my students are absent or miss assignments, I'm waiting at the top of the stairs to catch them to see how they are doing."
Arrowood earned the 2018-2019 Administrator Excellence Award for serving as a role model, working collaboratively with others, meeting students' and other employees' needs, and exemplifying dedication, service, and involvement in the College community.
"Part of the joy of being an instructor is seeing the outcomes of our program," she said. "I love when a student lands a job and they circle back to let us know how they are doing. It's a great feeling when you see passion for the industry spark in a student and they see it through."
Captain Jennifer Del Angel, a San Jac maritime graduate, credits her drive to prove she can be the best partly to Arrowood.
"Captain Amy is my mentor," Del Angel said. "She went to bat for me and helped me get my internships. I look at her as a strong role model of what women in our industry can achieve."
About the program
Since Arrowood joined San Jac, the maritime programs have grown. Two years after starting maritime training, the College introduced the state's first and only associate degree for maritime transportation. This degree program combines Coast Guard- and Standards of Training, Certification, and Watchkeeping-approved maritime training with the college-level academics required of an associate degree.
The College also started a program for those who wish to work in other areas of maritime: an associate degree for cargo handling/logistics, transferable to universities.
In March 2016, the Maritime Technology and Training Center officially opened its doors to both credit and non-credit students. And in 2019, the center earned the prestigious Bellwether Award in Workforce Development.
"The goal moving forward is to keep growing the program and establishing more educational partnerships and transfer opportunities," Arrowood said. "The success of our students always comes first."
Learn more at sanjac.edu/maritime.