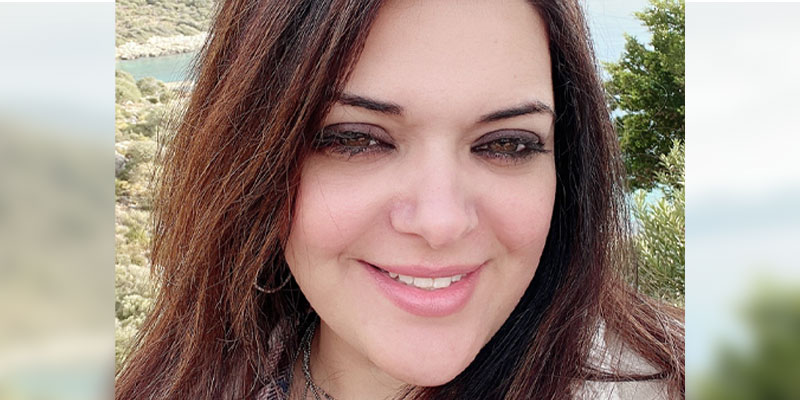 By Courtney Morris
On Sept. 11, 2001, Nevin Coco was on a U.S.-bound plane when the World Trade Center attacks shut down airspace. Plane diverted, she found herself stuck in Amsterdam for several weeks.
This began a journey that would take the 19-year-old from limited opportunities in war-torn Palestine to successful cybersecurity engineer and San Jacinto College adjunct faculty member two decades later.
Finding home away from home
Coco grew up with four older sisters in Bethlehem. Their father passed away early, leaving their mother to manage the family alone. In 2001, a sister who had moved to Houston and earned a San Jac technology degree offered to help her get a student visa.
"She wanted to help me make something of my future, knowing the limitations we had back home," Coco said.
Arriving in Houston, speaking only Arabic, Coco started with ESOL classes at San Jac. Then she picked the associate degree that seemed the fastest way to support herself: business.
Beyond English lessons were cultural ones. One professor, future South Campus provost Dr. Brenda Jones, took the young woman under her wing.
"She was truly the best teacher, mentor, and leader I have ever had," Coco said.
Sometimes, long after other students had left, Coco would stay in the classroom, digesting the material. Jones never rushed her, just smiled and said, "Take your time."
Later, Jones encouraged her to apply for a part-time position in the South Campus business and technology department. In three months, she went from part-timer to administrative assistant. Interacting with the IT community and talking to her sister and husband — also IT professionals — she decided to pursue technology too.
"I knew I wouldn't be hurting for opportunities, knowing the demand and shortage of workers," she said.
Proving herself
With a business degree already under her belt, Coco fit San Jac networking and security classes around her work schedule.
She transferred to University of Houston-Victoria, where she earned her bachelor's degree in 2019. Within 30 days of graduating, she landed a job with a top firewall security company.
Today, even small companies seek to protect themselves from cyber threats. As a technical enablement lead, Coco trains techs to secure apps from vulnerabilities and misconfiguration.
Did she have to overcome barriers as a woman in this field?
"That is definitely still a thing," she said. "When you show the customer you know your stuff, it disappears, but you have to prove yourself."
Showing her value has also meant quick promotions, top pay, and the chance to globetrot. During a recent business trip to London, Coco fired a miniature cannon at King Charles' first birthday celebration at Windsor Castle.
Investing in future IT professionals
In 2020, South Campus business and technology dean Kevin Morris invited Coco to teach part time in the computer information technology program. Outside her full-time job, Coco now teaches online cloud computing and cybersecurity classes.
"It was a learning curve to enter the industry," she said. "That's why Mr. Morris picked me to help part time. He wanted to hire people who knew the needs and demands to get students ready to go into the market."
Coco also helps revamp the CIT curriculum to align better with industry.
"What matters to me is not the quiz or the test," she said. "Are you learning? Are you getting the hands-on? Am I getting you ready to go in the field and talk about security and networking?"
Two decades ago, Coco landed in Houston unsure where to start. Today, she boasts a thriving career and coaches the next generation of IT professionals.
She tells San Jac CIT students they're in the right path and right place. With just an associate degree and industry certifications, they can land solid IT jobs.
"Cybersecurity is a great choice because it's the future," she said. "If you have a passion for it, there are so many opportunities. They don't have enough people to fill these jobs. That's job security for you forever."
Train for Tech Field
Interested in a tech career? Choose from these San Jac programs:
Application/Programming

Cloud Computing

Computer Science (transferrable A.S. degree)

Computer Simulation & Game Design

Cyber Security

Desktop Support and Microsoft Network Administration

Network Administration Cisco Specialty

Web Design
Learn more at sanjac.edu/CIT.