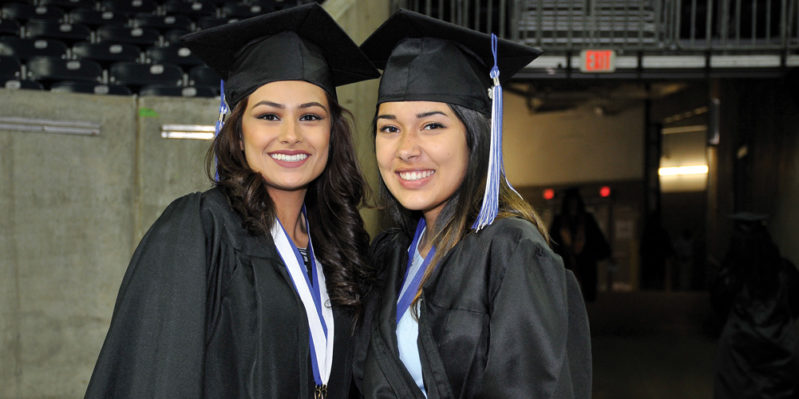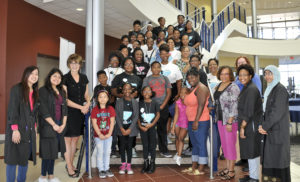 Photo credit: Andrea Vasquez, San Jacinto College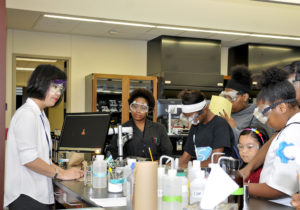 Young girls in the SuperGirls Shine program participate in a hands-on chemistry demonstration at a STEM luncheon event hosted at the San Jacinto College South Campus. Photo credit: Andrea Vasquez, San Jacinto College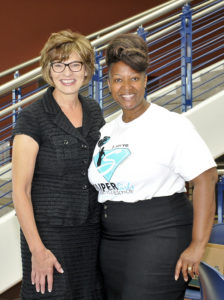 Dr. Brenda Hellyer, San Jacinto College chancellor (left) and Loretta Williams Gurnell, SuperGirls Shine Foundation president and chief mentor (right). Photo credit: Andrea Vasquez, San Jacinto College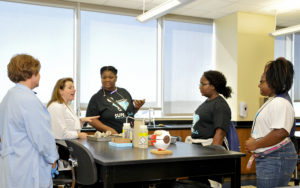 Community partnerships bring STEM to Young Girls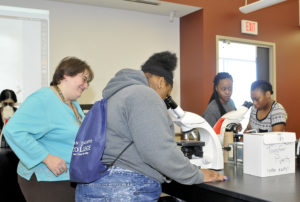 SuperGirls in STEM
By: Andrea Vasquez
Today's young girls want to experience the world of STEM (science, technology, engineering and math) through all their senses. San Jacinto College continues to bring STEM to young students through various community partnerships like the SuperGirls SHINE Foundation.
The SuperGirls SHINE Foundation serves girls ages 10-17 through character building and leadership development. The Foundation emphasizes STEM and provides mentors in career development, future planning and leadership practices to develop girls into SuperYoungLadies ages 18-24. The Foundation also partners with local women leaders to show real-world examples of where hard work and determination can take them.
"We wanted to have San Jacinto College as one of our educational partners because of Dr. Brenda Hellyer's success story as its first female chancellor and because the College supports community organizations that bring STEM to young girls," said SuperGirls SHINE Foundation Founding President and Chief Mentor, Loretta Williams Gurnell.
"Collaborating with community organizations like the SuperGirls SHINE Foundation reinforces our mission to enrich the lives of those we serve by bringing innovative, educational experiences to tomorrow's leaders," said Dr. Hellyer, San Jacinto College Chancellor.
One of the unique things about the SuperGirls SHINE Foundation is that parents participate with their daughters. "We want the parents to see the possibilities we're preparing their daughters for," said Williams Gurnell. "Science is life. When you look at science as a part of your life, you approach life differently. A clear pathway to STEM careers means allowing these girls to engage and take ownership of their learning now and for years to come."
For more information on San Jacinto College STEM programs, visit sanjac.edu/program/science-technology-engineering-math-stem. For more information on the SuperGirls SHINE Foundation or how you can sponsor a SuperGirl or SuperGirls programs, visit supergirlsshine.com.