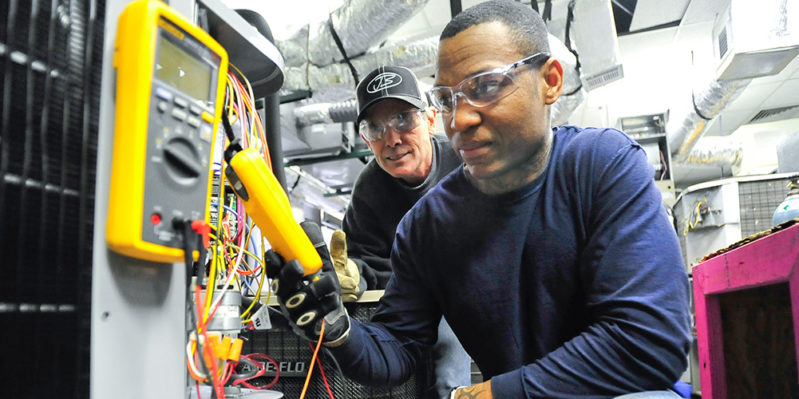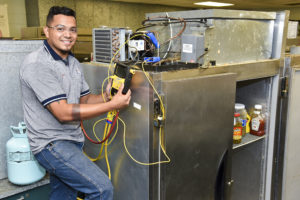 San Jacinto College HVACR students such as Cesar Garcia will have enhanced training options thanks to new courses that will launch at the start of the fall 2016 semester. Photo credit: Rob Vanya, San Jacinto College marketing, public relations, and government affairs department.
At your service
New HVACR courses will enhance training for students
By: Rob Vanya
In response to rapid growth in the industry, San Jacinto College is introducing new courses in HVACR (heating, ventilation, air conditioning and refrigeration).
"These new courses will provide diverse learning experiences and allow students to establish careers in many different segments of the HVACR market," commented Dr. Kerry Mix, San Jacinto College North Campus dean of technology and business.
HVACR is evolving due to rapidly changing technology. The College offers a wide range of training options at the North and South campuses and stays in step with trends and developments by maintaining industry partnerships and advisory committees at both campuses.
The North Campus program focuses on commercial and industrial training, while the South Campus program focuses on residential and light commercial training.
One of the new courses that will be offered at both campuses is Air Conditioning Installation and Startup. The College's training in the past has focused largely on diagnostics and repair, with limited focus on installation of HVACR systems. The new installation course is described as "a study of air conditioning system installation, refrigerant piping, condensate disposal, and air cleaning equipment with emphasis on startup and performance testing with learning outcomes that include: installing air conditioning equipment and evaluating system performance; demonstrating disposal and recycling of materials, including refrigerants and mercury; demonstrating bending and cutting technique for system piping; and installing equipment and ductwork according to industry standards to maximize efficiency."
A new course available only at the South Campus will be Technical Customer Service for HVACR. The course will cover principles of customer service within a technical environment, including internal/external customer relationships, time-management, best practices, and verbal and non-verbal communications skills. Learning outcomes will include: internal/external customer relationships; responding to customer questions and complaints in a polite and thorough manner; updating customers on work progress to maintain customer satisfaction; communicating technical information in a clear, precise and logical manner; and identifying verbal and non-verbal communications skills.
"Understanding customer service is important to employers today since technicians often make the first impression on the customer and act essentially as the face of the company," commented Kevin Morris, San Jacinto College South Campus dean of business and technology. "This course teaches how to communicate with customers in problem solving and explaining solutions in a non-technical manner."
In addition to the new installation course, the North Campus HVACR program is also introducing two additional courses that will focus on advanced commercial and industrial systems: Specialized Commercial Refrigeration, and Testing, Adjusting, and Balancing HVAC Systems.
The Specialized Commercial Refrigeration course covers the components, accessories, and service of specialized refrigeration units, such as ice machines, soft-serve machines, cryogenics, and cascade systems. Students will learn about different types of commercial refrigeration equipment, and learn to troubleshoot the electrical and mechanical refrigeration cycle of commercial refrigeration equipment.
The Testing, Adjusting, and Balancing HVAC Systems course covers the process of checking and adjusting building environmental systems to produce design objectives with an emphasis on energy efficiency. Students will learn how to interpret HVAC design specifications and plans, how to measure airflow, water flow and system pressure, and how to perform calculations for fan and pump laws.