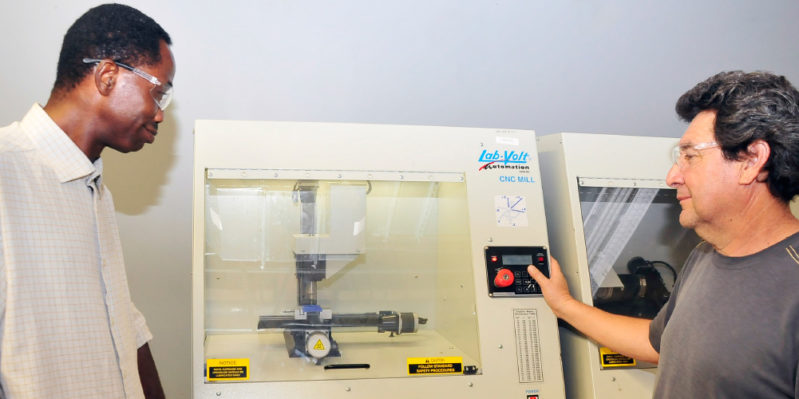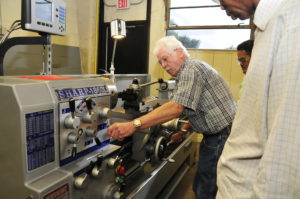 San Jacinto College CNC training is designed to introduce students to computerized shaping and cutting of material. Photo credit: Jeannie Peng Mansyur, San Jacinto College marketing, public relations, and government affairs department.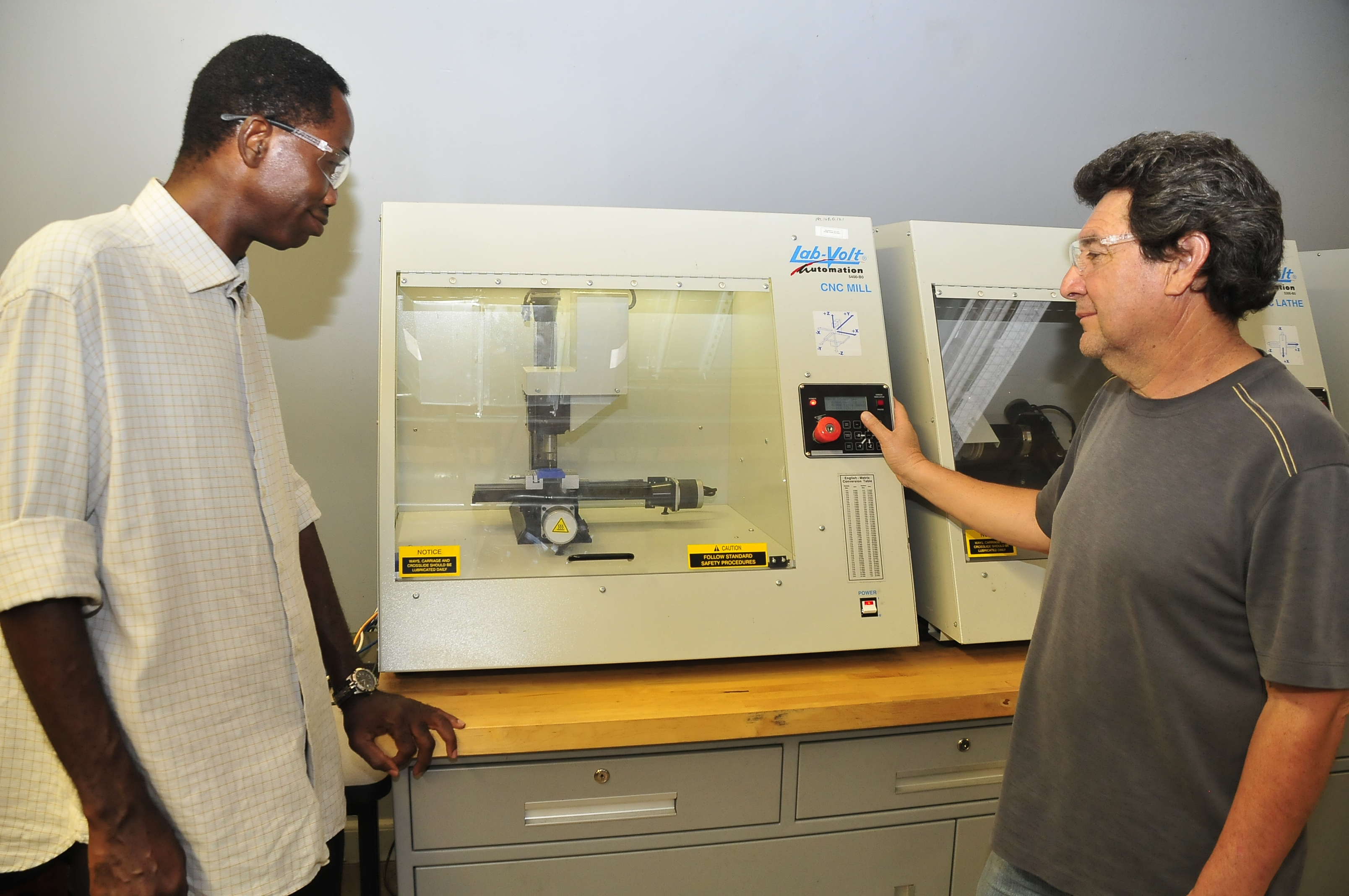 Continuing and Professional Development offers job training for robust manufacturing industry
Advanced manufacturing courses include training in CNC, robotics and PLC
By: Jeannie Peng Mansyur
To say manufacturing in Houston is booming is a bit of an understatement. East Harris County Manufacturing Association member companies employ more than 30,000 people throughout East Harris County and contribute to the creation of 200,000 jobs. This creates the need for recruitment and training.
The Continuing and Professional Development (CPD) division, the noncredit continuing education division of San Jacinto College, offers advanced manufacturing courses in a variety of areas to train those who are looking for career changes or wanting to increase his or her skills in the industry.
"Our advanced manufacturing program is designed to present students with physical processing and material handling learning opportunities by using cutting-edge technology and robotics to meet a production flow," said Jerelyn Hughes-Glenn, San Jacinto College director of computers/IT training. "Our students are taught in a lab and learn basic to advanced and proficiency levels of computer numeric controls (CNC), robotics and programmable logic controller (PLC). These courses are of interest to industry partners who hire our students as they finish their course and lab work."
According to the Gulf Coast Area Occupational Projections 2020 data from Workforce Solutions, there's a 63.6 percent growth of CNC machine tool programmer jobs and a 49.7 percent growth of computer controlled machine tool operator jobs in the Gulf Coast area.
San Jacinto College CNC training is designed to introduce students to computerized shaping and cutting of material. PLC introduces students to digital computers that are used in every industry to automate an electromechanical process such as medical machines monitoring, factory assembly lines, machining, packaging, material handling, controlling light fixtures, pumps, valves, horns, alarms, switches and more. The robotics courses introduce students to programming robots to perform repetitive tasks, tasks that are hard to accomplish by humans.
The CPD division has been expanding its CNC course offerings to include an introduction to manual machining per industry request. This training has been divided into several shorter length courses covering the same topics to give students who wish to brush up on only blueprint reading, manufacturing math or CNC Mills an opportunity to take that one course and return to work quicker and more productive.
Basic PLC courses are already underway. This training will expand in spring 2017 into the PLC Maintenance Technician Program to include 178 contact hours that includes Intro to PLC, PLC Programming, PLC Troubleshooting and PLC Maintenance. Basic robotics courses will be offered in fall 2016.
Currently these courses are offered at the San Jacinto College Central Campus. A new Advanced Manufacturing Lab will be located in the new Center for Industrial Technology building at the North Campus. The lab is projected to house new equipment that will include robots, CNC and PLC machines and 3-D printers, if awarded a Texas Workforce Commission grant, a JET grant and a FastStart Grant.
For more information about advanced manufacturing training, visit http://www.sanjac.edu/continuing-professional-development.