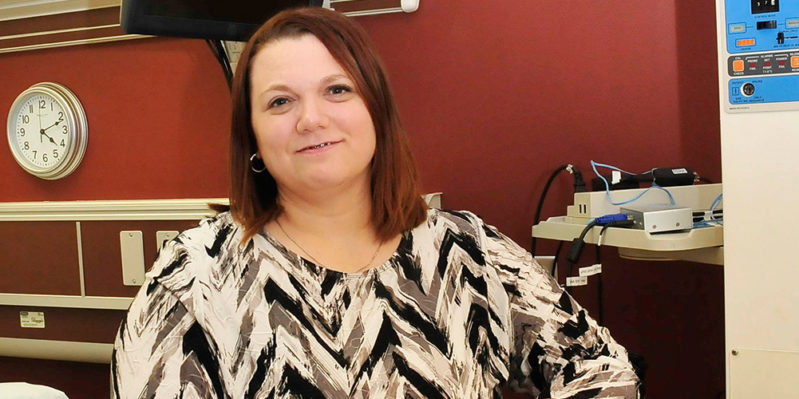 Kerri Hines returns to her alma mater to become nursing educator
Faculty spotlight: Kerri Hines, San Jac Certified, comes full circle as nursing department chair
By: Jeannie Peng Mansyur
Kerri Hines spends her days in the midst of nursing education. As department chair of nursing at San Jacinto College, she's able to give back to the College where her passion for health care began.
The North Shore High School graduate is San Jac Certified, having earned her associate degree of nursing from San Jacinto College. She holds a bachelor's degree in nursing from the University of Texas Medical Branch and a master's degree in nursing from the University of Phoenix. She is currently working on a doctorate degree in education from Capella University.
What inspired you to become a nurse?
When I was in high school, I belonged to HOSA. We visited hospitals, and that was when I noticed what the nurses did. I saw how they showed compassion, and that inspired me to become a nurse.
Tell us about some of your first nursing jobs.
When I worked at Houston Methodist Hospital, I worked on the medical surgical unit for a while and then transferred to the bone marrow transplant unit. I loved it. I found inspiration through my patients.
I later went to work for MD Anderson in their bone marrow transplant unit. There, nurses worked together to advance health care. It was there that I had the privilege of working with nursing students and decided to become an educator in nursing.
How did you find yourself back at San Jacinto College?
In 2005, I applied to become an adjunct professor at the San Jacinto College South Campus and was hired to teach fundamentals in nursing and go with students to their clinicals. In 2006, I ended up teaching full time at the North Campus. In 2014, I became the nursing program director and then department chair in 2015.
Why do you enjoy leading others to nursing?
The students are the future of nursing, and we have to give them the best we can to take care of patients. Plus, the health care industry has a nursing shortage. I think that community colleges can produce nurses with their associate degrees, which allows them to enter the workforce fast and transfer into universities for their bachelor of science in nursing (BSN).