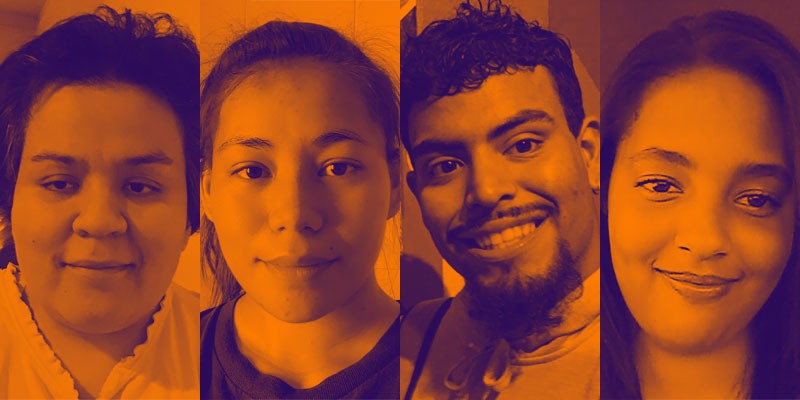 By Courtney Morris
Achieving an associate degree has motivated Veronica Robles to go to great lengths. Before COVID-19, the San Jacinto College student boarded three Metro buses to travel to classes and three to get home.
"I didn't have a working vehicle that one of my family members could drive me to the College," Robles said. "I cannot drive due to having seizures and blackouts."
She wouldn't let her challenges — managing a learning disability or being the first in her family to pursue a degree — hold her back.
Robles numbers among many who have enrolled in San Jac as first-generation college students (those whose parents never earned a college degree).
When your family hasn't finished college or doesn't understand your desire to pursue it, you might feel nervous navigating higher education. We asked three first-gen students to share their stories. If they can do it, so can you!
Tell us about yourself.
Veronica Robles: I was born and raised in Houston and graduated from Houston Can Academy in 2005. I have started writing my own dramatic monologues for acting … one about my current situation called "Not Giving Up" and one about my love of ice cream and theatre. I'm pursing an Associate of Arts in theatre and film.
Kawena Kahoiwai: I was raised in a loving home by my grandparents, and I graduated from Waipahu High School in Hawaii in 2015. I love to create things with my hands like arts and crafts. I'm earning an Associate of Applied Science in welding.
Ricardo Aguilar:I graduated from Channelview High School in 2018. I enjoy drawing, painting, and reading and writing poems. I'm going for an Associate of Applied Science degree in business management. I'm currently a part-time student and full-time hardware lead for Home Depot.
Mary Constanzo: I'm from the Dominican Republic, but I came here when I was about 5. I graduated from Clear Lake High School in 2020. My family is fun, loud, and caring! I am taking basics right now and hope to pursue the diagnostic medical sonography program.
Why did you pursue college?
Robles: I was not going to let my learning disability hold me back or a counselor who told me I didn't belong in college — to stay home and take up a hobby. Everyone deserves to have an education no matter what challenges one has to face in their life.
Kahoiwai: As I was growing up, I knew I wanted to go to college and pursue something that would help me be successful in life. I wanted to be someone my future children and grandchildren would be proud of.
Aguilar: I love the idea that you can expand your brain and learn more — not only from life but from education. My parents have associate degrees, but none of my siblings do. I wanted to be the first grandchild and son in my family to get a bachelor's degree and then master's.
Constanzo: I always pictured college in my future. After graduating from high school, I was thinking of majoring in fashion design, but I'm actually pursuing health care. I might be the first in my family to go to college and actually graduate. My two older brothers went to college but dropped out.
What was college like in the beginning?
Robles: I was nervous and scared enrolling at 30. I felt that other students would make fun of me. To start taking classes, I spoke with a disability counselor on what classes to take and to get an accommodation letter to give my professors of what I needed to complete my assignments or exams. My professors encouraged me not to give up on myself with the challenges I deal with and gave me the opportunity of a lifetime to work for them as a teacher's assistant.
Kahoiwai: I was scared at first because I thought people would never accept me, but most everyone has accepted me and loved me for who I was. I wanted to go to San Jac to get a life science degree, but I changed my career path. I didn't have a clear vision, but now I do. When I had good people who supported me and my decisions, it helped me a lot.
Aguilar: Transitioning from high school to college was more complicated than I thought it would be. You are on your own now. It's a wake-up call to get on top of your game or get on top of working. I faced a lot of pressure — demands of work and personal pressure. I had to learn it was OK not to understand everything, and I found it helpful to help other students.
Constanzo: When I was starting classes, I was nervous. I'm not really a talker, so speaking in class was challenging. I felt like I was going to do or say something wrong, but then I got comfortable days later with the class and teacher.
What has been the biggest challenge you've faced?
Robles: Finishing my fall 2020 semester and finding out I have a lesion and spot on the left side that is deep inside my brain. I was diagnosed and handling this during the COVID-19 lockdown on top of trying to finish my college work on time for my professors.
Kahoiwai: Some people said I could not do college or that I should not be a welder. I responded by listening to what they had to say and respecting their opinions, but I knew what I wanted to be, and that was a welder. I did not and will not give up.
Aguilar: The one challenge I faced the most was waking up and getting my mind focused and ready for online classes. I'm a traditional student. I like to see the textbooks and highlight the words. When I started embracing the online aspect, I got adjusted. I started learning new techniques — how to highlight, take notes, and write down everything that was important.
Constanzo: Starting my first year in college online. I'm more an in-person student. The first week was kind of weird for me, but then it got easier, and I got used to the online classes.
How have you surprised yourself?
Robles: My creativity, determination, and trustworthiness while handling challenges, complexity, and change. I have maintained a positive and healthy family life. I also retook an exam and did better than I expected.
Kahoiwai: How persistent and focused I can be. I can do anything I put my mind to. I'm going to school full time while working two to three jobs at a time.
Aguilar: I've made the best grades of any report card I've ever had. It was eye-opening that regardless of how I've seen myself I was actually capable of making a 4.0 GPA for a semester while working full time.
Constanzo: Sometimes it's hard for me to dedicate myself to something, but I dedicated myself to class. I have worked hard and focused on school.
What advice would you give to another first-gen student?
Robles: Go forward with your education and career because every individual deserves to achieve one's dreams. You can do it, and don't let your challenges hold you back no matter who says what. Never give up because everyone is entitled to be happy.
Kahoiwai: Never give up on your dreams. Don't let anyone stop you from becoming successful. Stay determined and stay positive. Encourage others and speak life because words are powerful.
Aguilar: Everyone in class is in the same boat as you, so don't be afraid to ask for help. As long as you're asking for help and giving help, college will be the greatest experience. You might have a tough life or a harder time learning, but that doesn't mean you're beneath anyone. You always want to strive for more, not just the bare minimum.
Constanzo: It's kind of important to be a first-generation college student. Sometimes it could be hard for you, and you're stressed or overwhelmed. But just try to look on the positive side. When you're feeling like that, know that everything is going to be OK if you don't worry about it.