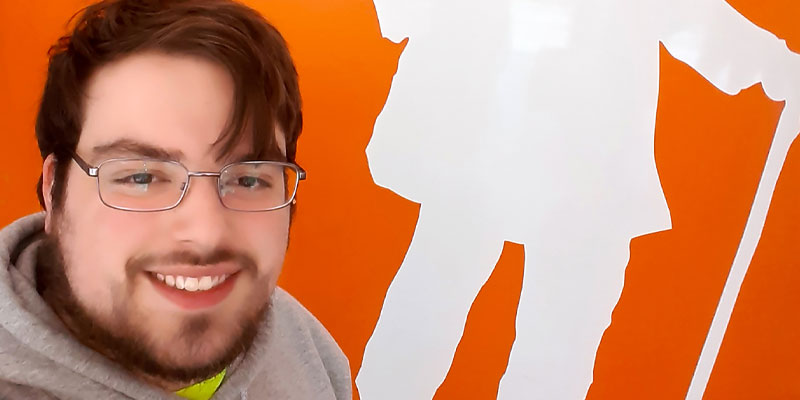 By Courtney Morris
Before starting college, Ralph Alley already knew his goal: to earn an early childhood education degree from Sam Houston State University. Alley enrolled at San Jacinto College to stay with family and ease into higher education.
"I wasn't comfortable making that quick of a change," he said. "I needed to learn independence."
Because of San Jac's low tuition, he could avoid student loans, and transferring to SHSU would be straightforward thanks to both schools' partnership.
"Before I registered at San Jac, I explained with an admissions counselor where I planned to go," he said. "The counselor made sure my classes transferred to SHSU."
Alley applied early, got accepted, and will start at SHSU this fall after wrapping up his associate degree.
"It was much simpler than I anticipated," he said.
Do you want to save dollars by starting college at home? Need the flexibility and convenience of community college while you figure out your career course? While everyone's path looks different, San Jac makes transferring as simple as possible for students.
Director of student support services Sonia Townsend and educational planners Julie Cleburn and Crystal Moreno share tips to navigate the transfer process.
I haven't chosen my major or transfer university. Where do I start?
As soon as you enroll at San Jac, meet often with an educational planner to ensure you're on track with your goals — and to choose a major if you're undecided. Students usually meet with an advisor at the beginning, middle, and end of their program, but you can meet anytime you need help.
Don't know where you want to transfer? Educational planners can help you decide by exploring your career options.
"We like to start with the end goal in mind and work our way backward," Townsend said. "Not all universities offer the same majors. That's why it's important to select the university best suited for your academic and career goals."
Even if you plan to stop at an associate degree or certificate, don't discount transfer advising. You may find you need a bachelor's degree to advance in your career, or an economic slump may prompt you to advance your skills or pursue a different career.
"Life has a funny way of throwing twists and turns in the way of our neatly laid-out plans," Moreno said.
Action Step: For advising and other academic needs, schedule a virtual appointment. Visit https://appointments.sanjac.edu. Select "Educational Planning, Counseling, and Completion" as the department and "General Advising" as the reason for the visit.
I know my transfer university. Now what?
Transferring is basically a two-step process: (1) Applying to the university (2) Sending a transcript from San Jac
"But the process can get complicated depending on where you want to transfer and the respective program or university-specific requirements," Cleburn said.
Usually, you can complete most lower-level requirements for your bachelor's degree at San Jac.
During your advising appointments, an educational planner will guide you through the overall transfer process:
Discuss your course progress

Ensure you're taking only necessary courses for your credential and transfer university

Check that your grades meet your university's GPA requirements

Review university admissions deadlines

Whenever possible, connect you to a transfer advisor from the university
"Once you choose a university, we recommend you begin to develop a relationship with a transfer advisor at least one year before transferring to discuss the admissions process, financial aid dates, and scholarships," Townsend said.
Advisors at both San Jac and your future university will help you along the way.
Action Step: Visit sanjac.edu/university-center to learn about transfer advising virtual events with specific universities. Or visit https://appointments.sanjac.edu, select "Transfer Advising," and schedule a personal appointment. If a time slot or specific university is not available, email [email protected].
I'll be a successful transfer student if I…
Adopt these strategies:
1. Plan. Moreno says universities have earlier deadlines than community colleges for admission and financial aid, so you must remember the dates.
"There is usually little to no wiggle room on these deadlines, so planning is key!" she said.
2. Connect with a university transfer advisor.This shows your interest. Especially during COVID-19, universities offer campus tours, events for specific majors, and one-on-one transfer advising virtually.
"Reaching out to the university lets them know you are getting your affairs in order for transferring and helps them know you may need assistance so they can check on you," Moreno said.
3. Manage your time. You're probably juggling a lot already. Keep a list of all your transfer to-do items. Cross them off as you complete them.
Action Item: Many universities offer an admissions checklist. Check with your transfer institution for this resource.
Help! I feel overwhelmed.
We hear you, but transferring is doable! San Jac has 25 transfer partnerships (called articulation agreements) with four-year institutions to ensure you know what will and will not transfer. This saves you time and money.
Even if you're transferring to a university San Jac doesn't have a partnership with, an educational planner can guide you through the process. Schedule a virtual appointment or visit your campus educational planning, counseling, and completion office.
Some final tips:
Complete your associate degree before transferring. It's a valuable credential.

Apply early to your transfer institution.

Connect with San Jac after you leave. Career services can help you with job searches and resumes, educational

 

planners can help you transition, and our alumni association can help you network

Get involved at your new university!
"We are here to help you, and you are not in this alone," Townsend said. "Your goal is our goal. We understand this is a new endeavor for you, but you are fully capable. We will guide you step by step."
On Track to Transfer
San Jac's top five partnering universities include:
University of Houston

University of Houston Downtown

University of Houston-Clear Lake

Sam Houston State University

Texas A&M University
Visit sanjac.edu/transfers for helpful resources!