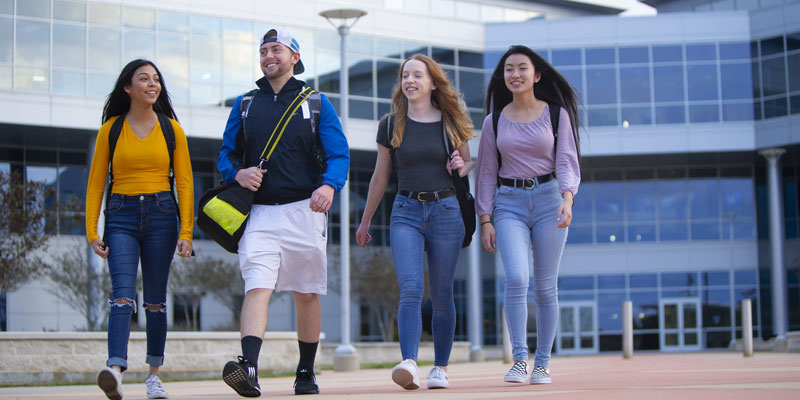 Take 8-week classes after spring break!
If you weren't quite ready to tackle your educational goals right at the start of 2021, no worries! Relax and then hit the ground running with San Jacinto College's 8-week classes, which begin Monday, March 22, after spring break. Whether you're looking to further your career, enhance your skills, or just try a new hobby, San Jac has you covered. Registration is open now for these 8B spring classes.
Students have multiple options for course delivery with "San Jac My Way," which offers five different ways to learn, both in person and online: Online Anytime, Online on a Schedule, Face-to-Face, Hands-On Hybrid, and Flex Campus.
ONLINE Anytime 

allows students to take classes online, at any time. This is the most flexible of the four options, allowing students to work on coursework whenever their schedule allows, without having to come to campus.
The

ONLINE on a Schedule 

option also delivers coursework online, but the lectures and virtual instruction will occur at specific times on certain days, just as a typical face-to-face course would occur.

FACE-to-FACE 

classes will take place in person on campus, with reduced class sizes and social distancing measures.

Hands-On HYBRID 

is for the technical and applied skill courses. Most class instruction will be delivered online. Students will come to campus in small groups to complete hands-on learning and practical testin

g.
The

FLEX Campus 

option allows students to spend some time in the classroom with an instructor, in addition to online learning. Small groups of students in each class will have the option to attend in person, following all CDC and College health and safety protocols, while the remaining students will access the same coursework online. The small groups will rotate so all students in a class have multiple chances to attend in person, although it's never a requirement to attend in person.
Student services will remain available to all students enrolled this spring, regardless of which type of course they select. Services include online tutoring and advising, on-campus document drop-off, and virtual appointments for things such as admissions, career services, dual credit, financial aid, testing, veterans services, and more.
Visit sanjac.edu/my-way to learn more and to register
College named a finalist for national Bellwether Award
San Jacinto College was named one of 10 national finalists for the 2021 Bellwether Award in Workforce Development, awarded by the Community College Futures Assembly to the most innovative community college workforce program in the nation.
The College's entry for this year's competition was titled "Crosswalks Linking Apprenticeship Training and Workforce Courses: Blueprint for a Statewide Model."
Dr. Sarah Janes, San Jacinto College associate vice chancellor for continuing and professional development, has been leading a statewide effort to align apprenticeship training with credit that can be awarded for workforce education courses. Through funding from the Texas Workforce Commission and the Texas Higher Education Coordinating Board, Dr. Janes is leading a team of College faculty and staff and industry experts to devise crosswalks for 10 initial programs. The work was presented virtually at the College Futures Assembly conference, where San Jac's project was judged alongside nine other entries from across the country.
The Bellwether Awards are an integral part of the Community College Futures Assembly, focusing on cutting-edge, trendsetting programs that other colleges might find worthy of replicating. The awards are widely regarded as the nation's most competitive and prestigious recognition for community colleges and are presented annually to colleges with outstanding and innovative programs or practices in three categories: workforce development, instructional programs and services, and planning, governance, and finance.
"We were thrilled to be a finalist for the prestigious Bellwether Award," said Dr. Janes. "San Jacinto College is proud to be an innovator and leader in workforce development, and having our program recognized nationally is a testament to our commitment to our mission."
Last year, San Jacinto College's LyondellBasell Center for Petrochemical, Energy, & Technology was recognized as a finalist in the competition, and in 2019, the San Jacinto College Maritime program won the Bellwether Award in the workforce development category.
Chancellor's 2020 Annual Report now available
We all know 2020 was a challenging year, but the San Jacinto College community came together like never before, and we're excited to share more about this monumental year with you.
The Chancellor's 2020 Annual Report is now available at sanjac.edu/report-community, where you can view interactive content online or download the PDF version of the report.
Inside, you'll find stories highlighting the resilience of our students and staff, along with spotlights on our new campus and some of our new programs that launched despite the challenging environment. You'll also find some staggering statistics about the College's COVID-19 response, quick facts about our student demographics, and recaps on the year's financials, social media, and more.
Visit sanjac.edu/report-community to take a look back on 2020 at San Jac.
Foundation raises more than $8K for Giving Tuesday
The San Jacinto College Foundation raised $8,640 as part of its Giving Tuesday campaign in December.
Widely known as a global day of giving back, Giving Tuesday originally began in 2012 as the first Tuesday after Thanksgiving, with the idea of encouraging people to do good. Since then, it has grown into a global movement that inspires millions of people to give, collaborate, and celebrate generosity.
All proceeds raised from the San Jacinto College Foundation's Giving Tuesday campaign will benefit the Harris County Promise Program at San Jac. In partnership with Pasadena ISD and Good Reason Houston, the Harris County Promise program at San Jac provides up to three years of free tuition and additional support to high school graduates from Dobie High School, Sam Rayburn High School, and South Houston High School who take the Promise Pledge to become Promise Scholars.
For more information about the Promise program at San Jacinto College, visit sanjac.edu/promise.