From a simple meeting to a company luncheon, San Jacinto College is able to provide the public with adequate facility space for affordable rental prices.
"Some companies need conference rooms for smaller meetings while others need something like the ballroom for larger company events," said San Jacinto College Central Campus Events and Campus Services Coordinator Erin Wood. "Being able to accommodate that need, large or small, is what we strive to do for each rental. The campuses are always growing along as well as our ability to continue to accommodate outside requests."
Currently, the Central, North and South Campuses offer facility rentals for meetings and events seven days a week. Small conference rooms that for 6-12 people are $50; medium-size conference rooms for 13-20 people are $100; and large conference rooms for 20+ people are $120. For event spaces accommodating 20-100 guests, prices range from $50-100, however multipurpose rooms are $300. Auditorium and performance hall space ranged from $50-600 and gymnasiums are available for $50 per hour.
All conference room, event space, auditorium and performance hall rental pricing includes four hours of rental time and an additional $20 maintenance fee for each four-hour block rented.
Each conference room and event space includes setup, tables and chairs, podium, projector, trash cans and cleanup. If there are more than 100 attendees expected, an additional cost is added for an extra campus police officer. Tech Support is available and the requestor may incur additional charges depending upon the request.
For more information on San Jacinto College facility rentals, contact the respective events and campus services coordinator:
Central Campus: Erin Wood, [email protected] or 281-476-1878
North Campus: Charlotte Jackson, [email protected] or 281-998-6150 ext. 7526
South Campus: Marina Keith, [email protected] or 281-998-6150 ext. 3800
Article Photos: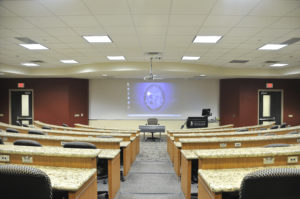 Lecture hall- Large conference room at the San Jacinto College South Campus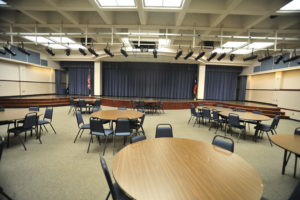 Monument Room- Large event space at the San Jacinto College North Campus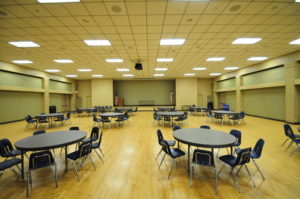 Ballroom- Large event space at the San Jacinto College Central Campus
Cover Photo: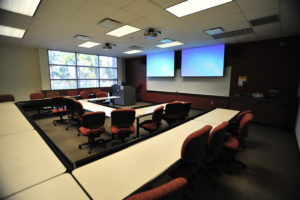 TOC Photo: