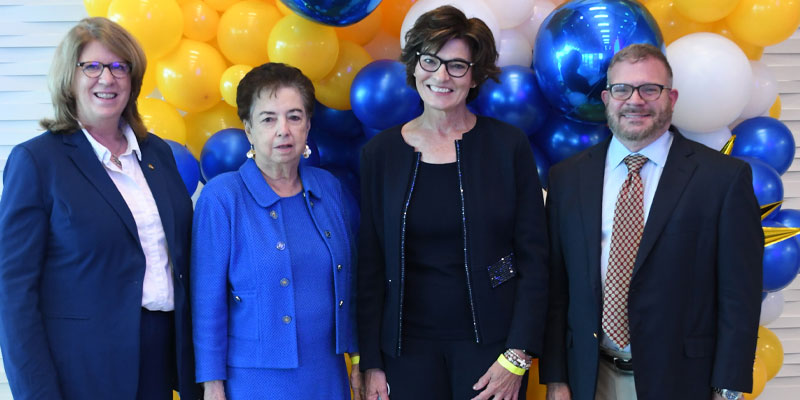 By Andrea Vasquez
The Aspen Institute has once again named San Jacinto College a national Top 5 institution among more than 1,100 community colleges nationwide. The College received the Finalist with Distinction designation May 18 at the Aspen Prize for Community College Excellence virtual award ceremony.
"Receiving this honor clearly says we put students first," said Dr. Laurel Williamson, deputy chancellor and president. "Students have many options when making decisions about college. Whether they are new high school graduates, returning students, or students who want to advance in or change their careers, the choices in the Houston area are vast. We are a College that cares. We prioritize student success by providing access and support that lead to equity for all students."
The $1 million Aspen Prize for Community College Excellence, awarded every two years, is the nation's signature recognition for America's community colleges. It honors institutions with outstanding achievement in four areas: teaching and learning, certificate and degree completion, workforce success, and equitable outcomes for students of color and low-income students.
By lifting up models that work, the Aspen Prize celebrates excellence, focuses on equitable student success, and stimulates replication of effective culture and practice.
In 2020, the College moved to altered operations, with instruction and student services online due to COVID-19. Jose DejesusGil, director of outreach and recruitment, feels the College's success goes to administrators, staff, and faculty. They went beyond the extra mile to ensure students had the same resources even in a virtual environment.
"San Jacinto College has long been a leader in excellence, and this recognition just confirms that commitment," said DejesusGil. "Our employees' work in a normal year is phenomenal, but even more so given the challenges the pandemic presented. From our maintenance teams who installed hand sanitizers and kept facilities ready for students and staff to return, to our student services staff who guided students through virtual meetings and engagement opportunities, to our faculty who recreated their lessons virtually, every employee has remained committed to our students' success."
Last year, the Aspen Institute and the Siemens Foundation presented San Jacinto College the Excellence and Equity in Community College STEM Award, honoring its associate degree nursing and process technology programs. The College was the only one nationwide to be recognized for two programs. The award recognizes outstanding community college programs that prepare students for high-demand jobs in advanced manufacturing, energy, health care, and information technology.
Each winning program was also recognized for its intentional outreach and support of diverse populations that typically are underrepresented in science, technology, engineering, and math (STEM) careers. Programs received $50,000 each, with half of the funds for program development and half for scholarships for outstanding students, known as Siemens Technical Scholars.
"When community, business, and industry leaders want to make significant changes for the well-being of citizens and workers, they should look for a partner who understands how to effect and manage change. San Jacinto College is that partner," said Williamson. "We are leaders in workforce and economic development, and we are leaders in transfer pathways."
The College partners with universities to ensure students are ready to take the next step: completing bachelor's degrees. It also collaborates with local community and business organizations to reskill and upskill employees.
"This national Aspen recognition will create additional opportunities for us to be a partner of choice for national and international industries who are looking for an institution that can provide innovative training for the evolving workforce demands," Williamson added.  
The Aspen Institute first recognized San Jacinto College in 2017 as a national Top 5 community college and a Rising Star award recipient. In 2019, the College was named as a Top 10 finalist for the Aspen Prize.
For more information about San Jacinto College and its Aspen Institute recognitions, visit sanjac.edu/aspen.