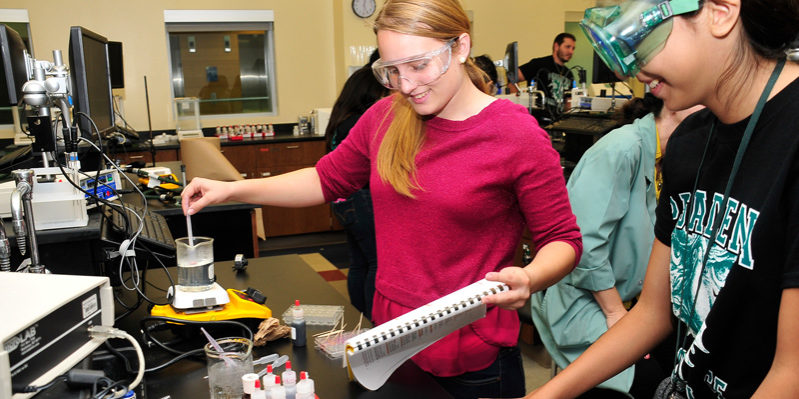 STEM education and outreach at San Jacinto College means students participate in a variety of activities and events meant to not only educate them in science, technology, engineering and math, but also to provide opportunities in STEM to the community.
Each semester, the College's STEM Council supports and hosts events that are free and open to the public. These events include hosting K-12 school students in the College's science labs, volunteering to judge local science fairs, coordinating collegewide STEM expos, STEM speakers series and planning events for observances like Earth Day.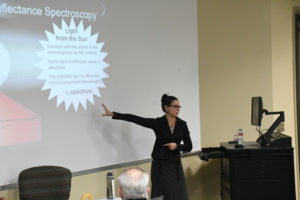 This year, the College was recognized by the Greater Houston Section of the American Chemical Society (ACS) for bringing STEM education, and specifically chemistry, to more than 7,000 K-12 students in 2016. The College placed within the Top 3 among two-year colleges, four-year colleges and universities plus industry and professional organizations as a finalist for the ACS ChemLuminary Award.
Such STEM education and outreach has paid off with San Jacinto College students accepted to internship programs like the Research Experience for Undergraduates (REU) program at Rice University, the Continuing Umbrella of Research Experiences (CURE) program at the University of Iowa, and NASA. San Jacinto College STEM graduates successfully transfer to Texas university STEM programs and obtain a number of scholarships to help fund their STEM education.
The College's STEM Council, in its fifth year, strives to increase awareness of education and career opportunities related to the fields of science, technology, engineering, and math. The Council sponsors all STEM activities at San Jacinto College. 
For more information, visit sanjac.edu/stem-council.