The San Jacinto College Continuing and Professional Development (CPD) division recognizes the need for grant-funded training to support individuals and companies. Grant-funded training allows companies to remain competitive within their industries and provide enhanced job skills for individuals.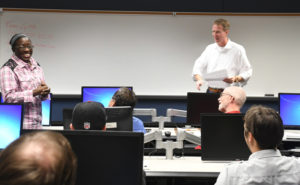 This is why a part of the division is dedicated to finding grant funding for training in the areas of health carriers, business, maritime, applied technologies, manufacturing and computer/IT. A grant is a type of financial aid for which a person may apply that does not need to be repaid. Eligibility for grant-funded training varies, and interested students must apply and meet specific eligibility requirements to participate.
Below are the grants currently available through the College's Continuing and Professional Development division.
Adult Education and Literacy Grant: Funded by the Houston Galveston Area Council and the Texas Workforce Commission, this grant funds basic education services offered to assist students in developing College and Career Readiness Skills.
Accelerate Texas II (ATX II) Grant: Funded by the Houston Galveston Area Council and the Texas Workforce Commission, this grant currently offers career pathways in health care, information technology, and craft trades. It is designed to integrate basic education and workforce training program career pathways for adult students.
The Department of Labor H-1B Ready to Work Petrochem Grant is an initiative that targets high-demand training supportive of petrochemical sector in the Gulf Coast. PMP, CNC, PLC, SAP, and other various craft trade certifications are available to eligible participants through this grant.
The Health Career Pathways Partnership Grant, funded by the Department of Health and Human Services, provides tuition-free training to low-income individuals for select health occupation courses/programs at San Jacinto College. The courses prepare students to enter the workforce in high demand health professions, or continue their health care education to higher income careers.
The Texas Public Education Grant (TPEG) is need-based funding for the adult learner training for entry-level positions in the areas of computers, health care and business.
The Texas Workforce Commission (TWC) funds Skills Development Fund, Skills for Small Business and Skills for Veterans grants for companies who wish to apply for eligible employees to complete noncredit certifications and training through the College's CPD division.
For more information about eligibility and how to apply for these grants, visit http://www.sanjac.edu/continuing-professional-development/grants.