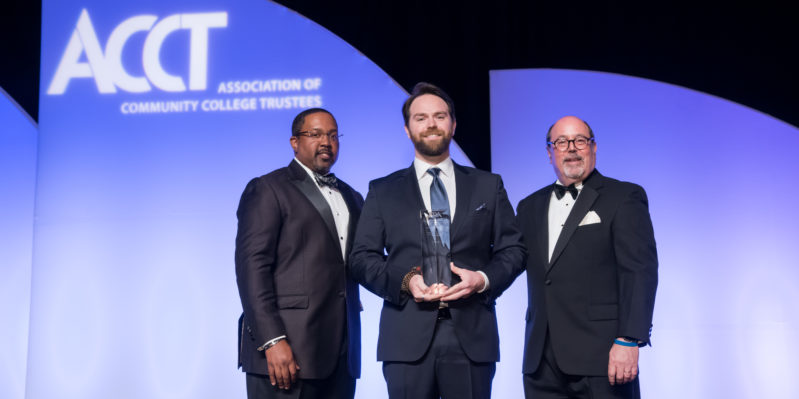 By Andrea Vasquez
For some students, a math course is the only thing standing between them and completing their degree. Unfortunately, many avoid math courses until their last semester, with some dropping out altogether simply because of their math phobia. Like many faculty, Matt Lewis saw this happening time after time with his students and knew there had to be a better way.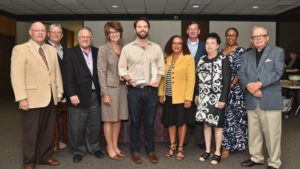 A group of San Jacinto College math faculty, including Lewis, set out to combat this issue and developed the College's nationally recognized Acceleration in Mathematics (AIM) program. Instead of a single remedial math or college algebra course two days a week, AIM students take remedial math and college algebra simultaneously five days a week with two professors, and have mandatory tutoring and collaborative group assignments. This allows students to learn the foundational concepts provided in remedial math and immediately apply and build upon them with corresponding college algebra concepts. Since its College-wide implementation in 2014, AIM students have seen a 70 percent success rate.
"AIM students are usually one to two levels below what is required to start in college algebra," said Lewis. "Now AIM has such a great reputation among students that they come into the class hopeful and optimistic, and that's a lot to work with. Many times, a student taking the traditional route of remedial math would fail one test and instantly feel like they're not good enough and quit. But if an AIM student gets a bad grade, they're a lot less likely to want to quit and will usually request additional tutoring time so they can understand what they missed in order to score higher on their next exam or assignment. The collaboration among AIM students really provides extra motivation for them to keep getting better because now they know they can."
Since working on AIM, Lewis has also had a direct role in the College's implementation of the American Association of Community Colleges (AACC) Pathways Initiative. San Jacinto College is one of 30 institutions nationwide participating in the Pathways Initiative to create an infrastructure that promotes the successful completion of student educational goals. As part of Pathways, Lewis helped design the College's SmartStart program, which features a student cohort model that consists of contextualized instruction with integrated student support, student and faculty learning communities and guided career pathway evaluation and selection.
Because of his dedication to student success, along with his collaborative and innovative efforts around developmental math courses to advance degree completion, the Association of Community College Trustees (ACCT) named Lewis its 2017 William H. Meardy Faculty Member Award recipient. Prior to receiving the national faculty award, Lewis was named the ACCT Western Region Faculty award recipient in July.
"Being honored in this way, for the work we are doing at San Jacinto College, is incredibly validating, and kind of overwhelming!" said Lewis. "Over and over, our entire profession is recognizing our efforts to better the lives of our students. We are national leaders, and for such an incredibly good cause. This experience has made that very real for me. It's empowering, having this faith in our work so deeply affirmed."
Lewis recently transitioned from being a full-time math faculty member into a new role as a qualitative research analyst, supporting the College's ongoing advancement in leveraging data for institutional improvement work. He will still continue his leadership role in implementing the SmartStart program.
"What works at San Jacinto College is our culture," he said. "This isn't a place where you can easily be complacent because there's always passionate people around you trying to innovate and do better for our students; without that climate I don't think any one of us would be accomplishing what's happening here. There's no better place to be in community college education right now."