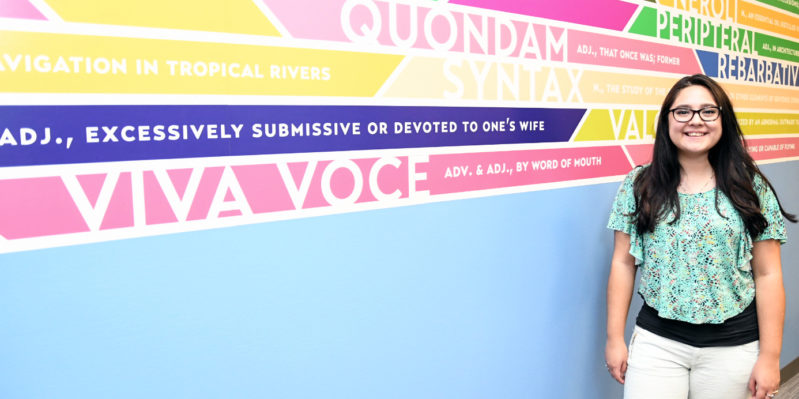 San Jacinto College nursing student Ivonne Gauna has been volunteering before she even knew the definition of the word.
"As a child in Mexico, we would volunteer at the school where my mom worked," Gauna said. "It's just always been a part of who I am."
Gauna's generous spirit was sparked during the devastating aftermath of Hurricane Harvey.
"Our house was only one of four in our neighborhood not affected by the storm," Gauna said. "My dad told us that 80 percent of the people in our area were flooded or displaced from their homes, and I knew I had to do something."
It was then that Gauna started researching volunteer sites near her home, and she found Pearland High School.
"I signed up to volunteer online, before I even knew how I was going to get there," Gauna said. "Most of the roads were closed but with the help of a police officer, I was able to get to the school to volunteer."
What she found were entire families who had lost everything.
"It was so emotional and heartbreaking to see children without shoes on their feet," Gauna said. "I would take the kids over to an area where we had donated toys and books. It was worth it all to see a smile on their faces."
As the president of the International Students Organization at the San Jacinto South Campus, Gauna also volunteers her time to making sure foreign students integrate into American culture as seamlessly as possible.
"I came to the United States when I was in the seventh grade," Gauna said. "I didn't have a program at my school to help me. I know what it is like to be in an unfamiliar place and not have anyone to turn to. That's why our organization exists."
Gauna plans to translate her volunteerism into a career of helping those in need as a cardiatric nurse.
"My grandmother died after a medication mix up by a nurse," Gauna said. "I decided I wanted to become a nurse to help people and to make sure that didn't happen to someone else."
As Gauna reaches her graduation date in the spring of 2018, she says she will always volunteer her time to those in need.
"I feel like volunteering is something I will always do," Gauna said. "I love to help others and make a difference in the world. I think you can never do enough."