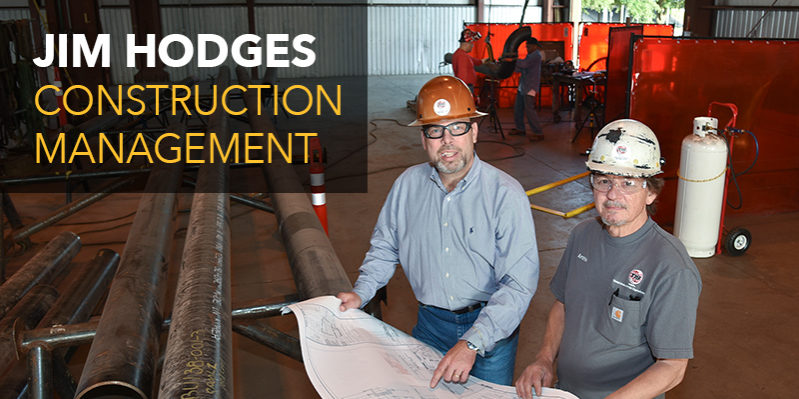 Jim Hodges earned an associate degree in construction management from San Jacinto College in 2005. He also holds a bachelor's degree in business administration with a project management concentration from Colorado Technical University. He serves as vice president of JV Driver Industrial Services, a subsidiary of the JV Driver Group U.S., located in Deer Park, where he manages a wide range industrial construction projects.
QUESTION: What attracted you to the construction management career field?
JIM HODGES: My family has been in the construction business for several generations, so it was sort of a natural career path for me. I started at the very bottom, as a laborer cleaning up construction sites, and worked my way up to be a construction helper, and then worked up to be a skilled craftsman, working as a pipefitter for several years. I continued to learn the business and eventually became a field engineer, and later a project manager. It's been a great career for many years.
Q: The field of study you learned at San Jacinto College is construction management. What is the difference between a construction worker and a construction manager?
JH: A construction worker typically learns a skilled trade, such as welding, pipefitting, electrical work, carpentry, or plumbing. Simply put, construction workers typically build and assemble things, whereas construction management team members support the building of things, coordinating all of the resources, deliverables, and reports, etc. in order to manage construction projects in a safe and cost-effective way that enables the trade professionals to perform at their best.
Q: From your observations it looks like the job outlook is good for construction related jobs in the area.
JH: Yes. With Houston being the largest petrochemical refining area in the nation, I believe there are plenty of industrial construction jobs here, and will be for many years. And, according to news reports I have seen recently, the commercial and residential construction areas are also strong and do not show any signs of slowing down.
To read more about Jim's story, visit sanjac.edu/article/jim-hodges. For more information about the San Jacinto College construction management program visit
sanjac.edu/construction-management-technology.
– Rob Vanya