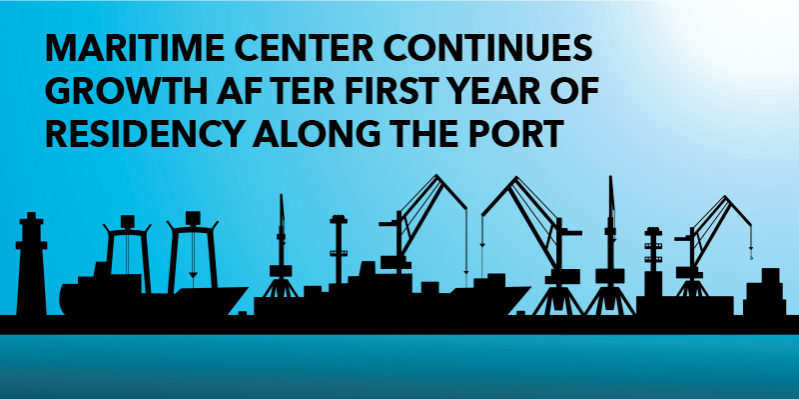 It's been one year since San Jacinto College moved all of its maritime training to the Maritime Technology and Training Center on the Maritime Campus along Port Houston, and it's becoming well known as the region's training hub for U.S. Coast Guard (USCG)-approved courses.
"Being a mariner in today's world requires ongoing training," said Chief John Stauffer, associate vice chancellor and superintendent of maritime at San Jacinto College. "This is why we're here, and each semester we aim to bring more training opportunities to current and future mariners. This year, we've added engineering courses to ensure mariners meet the new USCG regulations that went into effect at the beginning of 2017."

The four engineering courses include OICEW Auxiliary Machinery, OICEW Motor Plants, OICEW Electrical Machinery and Basic Electronics and OICEW Engine Room Resource Management. Additional training tools recently implemented in response to industry need include an ECS Rose Point Class and the installation of a K-SIM Engine Room Simulator.
The maritime program at San Jacinto College offers more than 65 courses for professional mariner training. Other programs include an associate degree program in maritime transportation, an associate degree for cargo handling/logistics, and an introduction to ships and shipping course that is included in the College's business administration associate degree.
Last fall, the College partnered with G & H Towing to build a dock at the Center for industry crew changes and student training. G & H Towing has been instrumental, along with other industry partners like Higman Marine, Buffalo Marine, Houston Pilots and Port Houston, in guiding the San Jacinto College maritime program since it began in 2010.
In addition to the dock, the 45,000 square-foot Maritime Technology and Training Center houses equipment to prepare students for careers at sea. This equipment includes an aquatic training facility; full mission ship bridge simulators and suite, donated by the Houston Pilots; and stations for Global Maritime Distress and Safety System training, automatic radar plotting aid training, radar training, and liquid cargo handling training.
The San Jacinto College Maritime Technology and Training Center is located at 3700 Old State Hwy 146 in La Porte, Texas. For more information, visit sanjac.edu/maritime.
– Jeannie Peng Mansyur