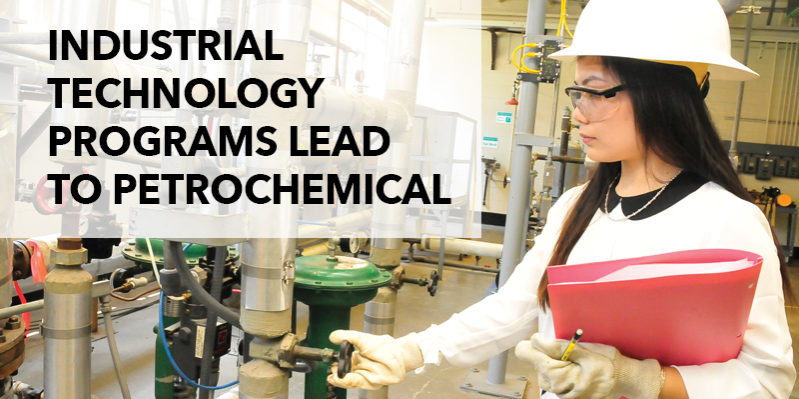 There's no sign of the petrochemical industry slowing down, and employers continue to turn to San Jacinto College as the region's workforce training hub.
The College offers training in eight areas for jobs commonly found within the petrochemical industry: electrical technology, electronics technology, environmental health and safety technology, instrumentation, non-destructive testing technology, pipefitting, process technology and welding. Degrees and certificates are available in these areas per industry request, and industry representatives have a seat at the table on San Jacinto advisory committees to discuss program curriculum and training facility needs.
"We invite petrochemical industry employers to become a part of our process in training for the type of workers they so desperately need for the rapid growth the Texas Gulf Coast region is experiencing," said Jeff Parks, dean of business and technology at San Jacinto College.
Graduates of the San Jacinto College process technology, non-destructive testing, welding, pipefitting, electrical and instrumentation programs are in such high demand that companies contribute thousands of dollars each year toward scholarships just to get students through the programs and into the hiring process. Dow invested in an apprenticeship program to cover selected San Jacinto College students' salaries and tuition for training and books for three years. Shell announced that it will pay for full-ride scholarships for selected students who complete advanced chemistry courses and who want to work in the plants for more analytical purposes.
San Jacinto College students are also encouraged to pursue internships before graduation, with many receiving full-time positions once they complete their programs.
"Internships are key to the success of our students," said Parks. "This gives them the chance to prove themselves on the job and gives employers a glimpse at a potential employee's skill set."
San Jacinto College is preparing to offer more opportunities for petrochemical training and partnership with the building of a new facility. The new Center for Petrochemical, Energy and Technology will be the first facility constructed from the 2015 bond referendum. It will be the largest facility on the College's Central Campus at approximately 133,000 square feet and will contain an exterior glycol unit that is incorporated into the training in all of the programs. It will house training spaces and equipment for programs in process technology, instrumentation, electrical and non-destructive testing, as well as space for continuing education and contract training for industry partners. The Center's development is being guided by a Petrochemical Advisory Council, which includes representatives from approximately 15 petrochemical companies, formed by San Jacinto College Chancellor Dr. Brenda Hellyer.
For updates and more information about all of the College's petrochemical-related training programs, visit sanjac.edu/program/industrial-technology.
– Jeannie Peng Mansyur