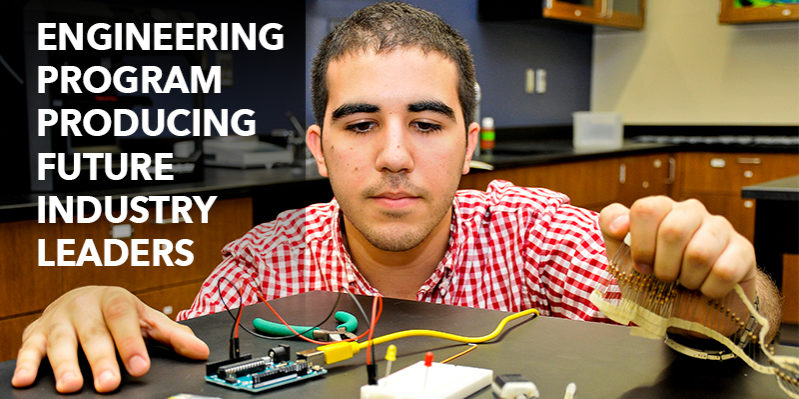 Since fall of 2015, San Jacinto College's engineering program has been one of the fastest growing associate degree programs College-wide. Students who complete the program can seamlessly transfer, fully prepared to enter engineering programs at four-year universities.
Since then the program has seen great success. Two students, Amir Timani and Yasmeen Gonzalez, were chosen to participate in the NASA Community College Aerospace Scholars (NCAS) program. The College was also recognized by Texas A&M University as one of three Texas Hispanic Serving Institutions to receive the Excellence in Retention and Transition for Hispanic Serving Institutions Award. The University of Houston Cullen College of Engineering also recognized the innovative program and signed an articulation agreement with the College, offering students an opportunity to continue their engineering education at one of the most recognized four-year university programs in the country.
"I am very excited about this important step toward graduating more world-class engineers into the city of Houston," said Dr. Joseph W. Tedesco, University of Houston Elizabeth D. Rockwell Dean of the Cullen College of Engineering.
This year, the program is providing students first-hand experiences in agricultural sustainable energy and natural resource management. As part of a consortium with the University of Texas at El Paso, Texas A&M University- Kingsville, New Mexico State University and El Paso Community College, the College is a participant of the USDA Wheels of Change grant. The grant provides 18 San Jacinto College engineering students with a three-year scholarship and opportunities to visit research laboratories and explore sustainability engineering. "This experience will allow students to see the impact that engineering is making on our food supply and the role they may play in maintaining our resources," said Dr. Connie Gomez, San Jacinto College engineering professor.
As the San Jacinto College engineering program continues to grow, so do the experiences and learning opportunities of tomorrow's innovators.
For more information on the engineering program, visit
sanjac.edu/career/engineering.
– Andrea Vasquez