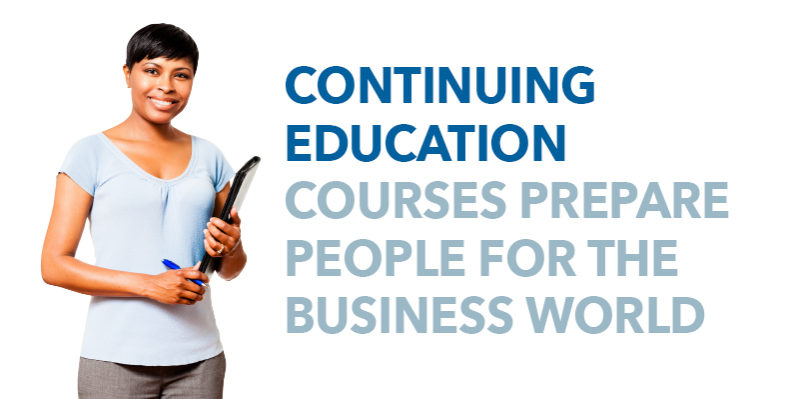 There are many ways to break into the business world, but applicants have an even better chance at success by showing they have the training employers want for the corporate world.
This is where San Jacinto College Business & Professions comes in to offer certification courses for working professionals or those looking for a career change.
"Continuing and Professional Development benefits both the company and the individual by fortifying their mutual credibility in the market," said John Suarez, program director of Business & Professions. "It is an investment that makes both more valuable to each other and to their customers. It is no longer an option but required to have competitive advantage."
Offered through the College's Continuing and Professional Development (CPD) division, Business & Professions courses range from entry level to advanced. Course options are divided into the categories of Accounting and Payroll, Professional Development, Leadership and Supervisory, Online Courses, Lean Six Sigma, Quality, Project Management, Human Resources and Bank Teller. Many courses allow a person to train for the workforce in a short amount of time and offer flexible scheduling with many classes offered in the evening.
Popular courses include the Lean Six Sigma Green and Black Belt courses, the payroll specialist fast track certificate program, the project management fast track certificate program, accounting for small business and bank teller fundamentals. A new course, DISC Assessment, was introduced to train professionals on how to build more effective working relationships.
Many participants of these courses are able to apply for course fee assistance through a variety of grants offered by the College's CPD division. For more information about all of the business and professions courses offered through CPD at San Jacinto College, visit sanjac.edu/cpd.
About the Continuing and Professional Development division
This division at San Jacinto College provides continuing education and training for both current and future employees in the professional and technical job sectors, as well as provides the public with noncredit open enrollment course options to enhance their lives. Professional and technical training is available through contract training, open enrollment, and grant funding.
For more information, call 281-476-1838 or visit the Continuing and Professional Development division website at sanjac.edu/cpd.
– Jeannie Peng Mansyur
These courses are available through the CPD Business & Professions areas.
Accounting and Payroll
Accounting for Small Business
Accounting Specialist Fast Track Certificate Program
Payroll Specialist Fast Track Certificate Program
Fundamental Payroll Exam Prep
Certified Payroll Professional (CPP) (Mastery) Exam Prep
Professional Development Training
Time Management
Technical Writing
Creating Stellar Customer Relations
Coaching Stellar Customer Relations
Leadership Training
Online Time Management
Leadership Skills for Managers
Collaborative Leadership Skills for Managers
Certified Manager Program
Online Courses through Ed2Go
Accounting
Project Management
Leadership
Sales and Marketing
Communications and more
Bank Teller
Human Resources
Train and Trainer
Society for Human Resource Management (SHRM) Essentials of Human Resource Management
Human Resource Certificate Program, instructor led
Human Resource Certification Program, online
Professional in Human Resources and Senior Professional in Human Resources (PHR/SPHR) Exam Prep
Project Management
Project Management Fast Track Certificate Program
Online Project Management Certificate Program
Certified Associate in Project Management (CAPM) Exam Prep
Project Management Professional (PMP) Exam Prep Plus
PMI-Agile Certified Practitioner (ACP) Exam Prep
Certified Scrum Master Workshop
Lean Six Sigma
Lean Six Sigma Green Belt, instructor led
Lead Six Sigma Black Belt, instructor led
Quality
Understanding and Implementing Failure Mode and Effects Analysis (FMEA)
Online Lean Essentials
Root Cause Analysis Basics
Root Cause Analysis for Facilitators
Basic Root Cause and Data Analysis Methodology Tools
Exemplar Global Certified Occupational Health and Safety Assessment Series (OHSAS) 18001 Lead Auditor Training
Exemplar Global Certified International Organization for Standardization (ISO) 9001:2015, and OHSAS 18001:2007 Lead Auditor Training
Certified Quality Inspector (CQI) Review
American Society for Quality (ASQ) Certified Manager of Quality and Organizational Excellence (CMQ/QE)
ASQ Process Analyst Certification Exam Review
ASQ Quality Improvement Certification Exam Review