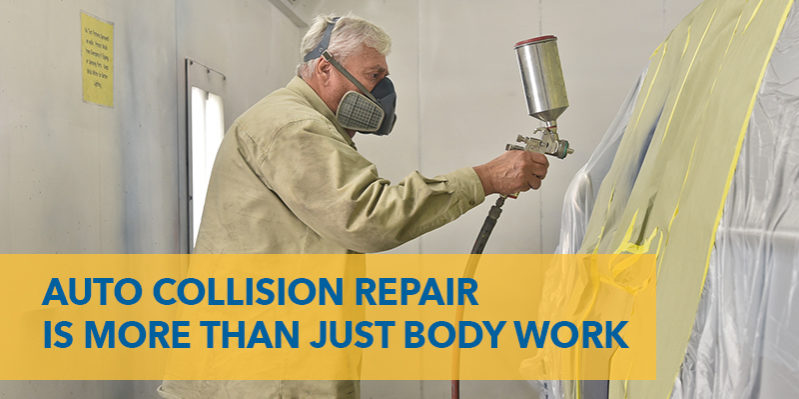 Vet signs up for classes rather than pay for a paint job
Sanders are blasting, sprayers are hissing and hoods are popping- just another day in San Jacinto College's auto collision and repair program. That is until you spot Ed Gil near the paint booth. At 74, he's hard to miss among the 18 to 20-somethings who are there due to a love for fixing up cars and dreaming of starting their own body shops. Not Ed. Rather than pay $5,000 for a paint job on his 1986 Chevrolet Suburban, he decided to enroll in some classes to learn how to do it himself.
"I thought I would only be here for one semester, but now I'm on number six" said the U.S. Army veteran. "I've always been mechanically inclined. My dad and I taught ourselves how to be mechanics since we didn't always have the money to take our cars to the shop. But doing body work was something I never had much experience with, so since I'm retired and have the time, I thought why not learn how to do all this."
After graduating in 1966 from Texas A&M University with a degree in electrical engineering, Gil was drafted to serve in the Army during the Vietnam War. He was sent to Aberdeen Proving Ground, Maryland, where numerous Army weapons and materials were tested, and served as a human engineering expert. After his time in the Army, he began working for Houston Lighting & Power (which later became CenterPoint Energy) and retired after 41 years. Gil says that despite his reasons for enrolling in the program, the auto collision repair program is teaching valuable workforce skills for the students who have aspirations to join the auto body industry.
"A lot of students don't want to go the doctor or lawyer route, so this is a good field for them to get into," he said. "There are auto accidents every day, so there's money to be made in this business. It's also good experience. In my case, now I'm an informed customer. Now I know what it's going to take to fix my truck, so if I have to take it to a shop, they can't take advantage of me. This program teaches students to do the job right with no shortcuts. If they take that work ethic with them into their own businesses and keep the prices reasonable, they'll have loyal customers for life."
For more information on the auto collision repair program, visit
sanjac.edu/career/auto-collision-repair.
– Andrea Vasquez