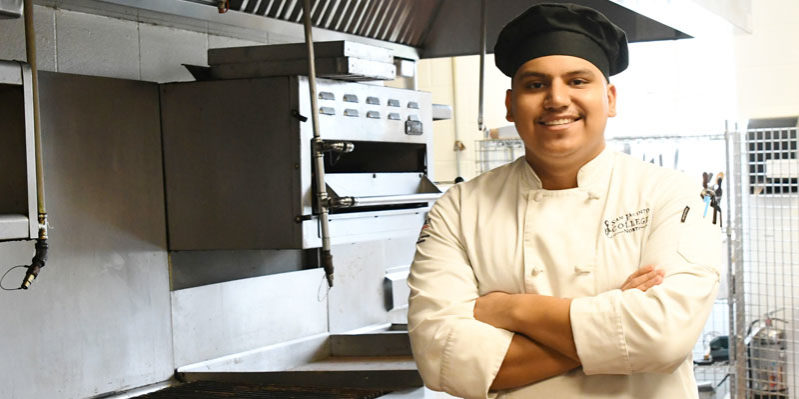 By Melissa Trevizo
The path to San Jacinto College wasn't always clear for Cristhian Herrera, but now that he is enrolled in the culinary program at the North Campus, he sees nothing but success in his future.
After taking a few courses at a neighboring community college, Herrera felt like it wasn't the right fit for him. That's when some of his friends told him about San Jac.
"A few of my friends from the neighborhood were attending San Jac for welding," Herrera said. "I was already attending college somewhere else and it really wasn't my cup of tea. After my first semester, I applied and it was completely different experience."
It was during that time that Herrera started taking basic courses while working at a local restaurant. That job helped direct him to the culinary field.
"I was working in a restaurant as a food runner," Herrera said. "Eventually I moved up to the kitchen and started to play around during the slow season. I would see what I could make and experiment with new dishes. Staff members started coming in and asking me to cook them off- menu specials. It made me feel good that I could make people happy through food."
As he progresses through the culinary program, Herrera is also gaining priceless on-the-job experience through his work with the Houston Restaurant Group owned by James Beard Award winner Hugo Ortega. Through this experience, Herrera has worked at some of Houston's top restaurants, including Backstreet Café, Hugo's, Caracol, and Xochi.
"Chef Hugo is very open and loves culinary students," Herrera said. "My time there is so valuable. If you take the time to observe and learn, it will come back to you. One day I'd love to be a sous chef at one of his restaurants, but I still have a lot left to learn." 
To learn more about the culinary program at San Jacinto College, visit www.sanjac.edu/career/chef-training.