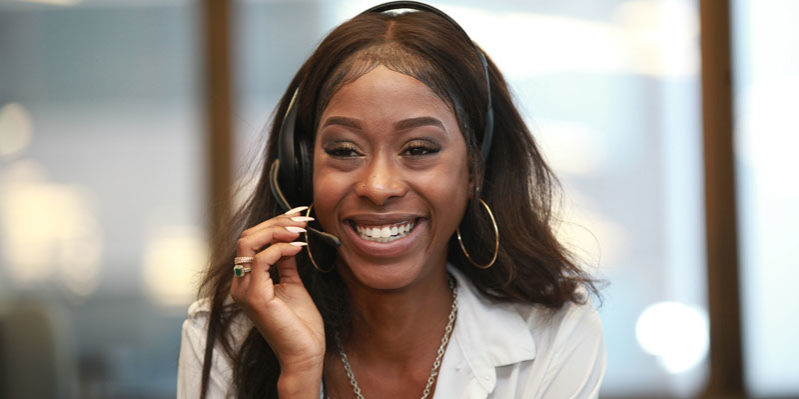 By Torrie Hardcastle
Keep your life moving forward. That's the headline for San Jacinto College's Continuing and Professional Development (CPD) division, but for some of the programs' disadvantaged participants, it's more of a daunting task than a motivational mantra.
With non-credit courses and an array of certification programs, CPD offers everything from cake decorating and tai chi to accounting and project management, with dozens of categories in between. The programs will often see inquisitive kids at summer camps, eager teens looking to get a jump on college, or senior citizens keeping active with life-long learning courses like scrapbooking. But while the non-credit courses can be a fun way for folks to dip their toe in new waters, some course participants—like those from local women's shelters—see the certification programs as their last hope to get back on their feet.
"It can be a lifeline," says John Suarez, Director of CPD's business & professions division. "Helping these ladies learn basic skills like accounting, payroll, or bank teller positions can open opportunities for them to find something stable and make it easier for them to transition out of the shelters."
Many shelter residents and their disadvantaged classmates find their way to CPD programs through San Jacinto College's partnerships with local nonprofits and social service organizations in the community, such as the United Way, as CPD aims to find meaningful ways to better the quality of life for local residents who may not have the personal resources to seek out such opportunities.
"It's always a privilege to work with Bridge Over Troubled Waters and Bay Area Turning Point because it makes such a difference in those lives," says Laura Martinez, CPD's skills training coordinator, who spearheads the nonprofit networking. "We've taught classes at BakerRipley right across the street from housing projects where the residents can easily walk over and take part in trainings that help them on the path to stability. They can come away with a sense of pride and a tangible job skill that helps make them more marketable to employers."
For Annette Williams, one of CPD's business & professions professors and a former adoption supervisor for Child Protective Services, teaching courses filled with struggling students is a meaningful reflection of her own journey as a single mother now working toward her PhD. Years ago, as a newly divorced mother of three having to rely on the government for help, Williams saw what it was like to be thrown into unexpected circumstances. "I ended up being a part of the system that I'm now helping people get out of," she says.
Williams is one of San Jacinto College's faculty members who has taught courses off campus, traveling to areas and organizations that need it the most, setting up classrooms in places like the United Way to be more accessible to course participants in need. "I can't think of one student who came in whole," she says. "Most are broken in some form or fashion. With us, they are able to learn new skills, complete the courses, and walk away feeling empowered, feeling important, and feeling ready. Outsiders looking in may not believe that a course or a certificate could change a life, but for some, it's the difference between poverty and success."
Residents of local shelters are just one of many groups finding their footing through CPD programs. In addition to helping local women transition from shelters back into the workforce, CPD also utilizes grant funding to aid older workers who have been displaced, laid off, or who have gone through traumatic events. Suarez has seen a steady stream of unemployed oil and gas workers who have had long careers but suddenly find themselves laid off and unable to find the next step, and who need help shifting gears or learning additional skills.
"You end up with a lot of disillusioned, discouraged, angry folks who are struggling with what to do next," Suarez says. "We are able to help them reorient, get their confidence back, get a new skillset, and get some hope back, which is perhaps one of the best things."
The career refocusing is paying off with both economic success and emotional empowerment for the once-downtrodden workers, Suarez says. "When you see a grown man crying because we were able to help him land a job, that's very fulfilling for the people here, and at the end of the day, it's all about people helping each other," he says.
Financial assistance is also available to qualifying participants through grant-funded scholarships so that those in need are able to complete courses, earn a certificate, and be job-ready with zero out-of-pocket expenses, says Sarah Janes, CPD's associate vice chancellor. "Something even as small as a $50 background check in a hiring process is extremely daunting for some of these families and it's really humbling to see that," she says.
Janes champions the division's ability to help struggling adults transition back into the workforce and back onto solid ground, but says the CPD programs are also designed to truly help students transition through all phases of their lives. "From cradle to career," she says. "We are here with courses to help parents develop their child-rearing skills, summer camps for kids, camps for older students, open enrollment courses for the public to explore new fields, apprenticeships for students who've narrowed their focus, and continued certifications for professionals of all ages to enhance their skills or successfully change careers."
Williams agrees that she has seen the power of what the CPD programs can provide to participants from all walks of life, saying "For many, it's switching careers, others are just getting their feet wet, and for some—it's a saving grace."
For more information about San Jacinto College's Continuing and Professional Development programs, please visit www.sanjac.edu/continuing-professional-development.