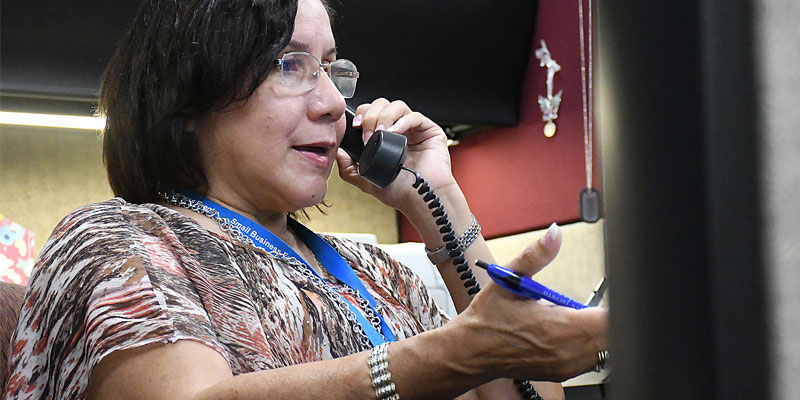 By Courtney Morris / Photo by Courtney Morris, San Jacinto College
Brianna Seratt was playing a waiting game, and time was running out.
With San Jacinto College's fall semester weeks away, Seratt still hadn't registered for classes. Although she had submitted her FAFSA, she was waiting for funds to come through. Because of COVID-19, she wasn't sure she could talk to anyone on campus.
That's when a College employee emailed, asking whether she needed help.
"I would still love to attend school this fall," Seratt replied, "but without the aid, I don't think I will be able to continue classes this semester."
That afternoon, the San Jac Cares employee volunteer called to share the news: the San Jacinto College Foundation had awarded her a $500 scholarship.
"There were a lot of emotions," Seratt said about getting that call. "I'm glad [San Jac Cares] existed. I couldn't go to school this semester without the help."
Virtual Void
Launched in April 2020, the San Jac Cares outreach program connected students to employees and resources so they could navigate COVID-19 and altered operations. When the College moved to online classes after spring break, Dr. Allatia Harris huddled a steering committee to create the program.
"We knew there were students who would be struggling with an online shift," said Dr. Harris, vice chancellor of strategic initiatives, workforce development, community relations, and diversity. "Some had never taken an online class before and didn't want one, and they had other needs."
Students faced unique challenges because of COVID, but many employees had also lost their connection to students because of remote work.
"We wanted to create something that would fill the void that happened with the virtual environment," Dr. Harris said.
Representing different College departments, committee members weighed in on which students to reach first and what information to give callers.
"Some students just needed someone to listen and to show they cared," said Yessenia Jimenez, strategic initiative projects manager, who led the committee. "Others needed to be pointed to the right person so they didn't have to ask around. It feels great … to make things a little easier on students' end, especially right now."
Goodbye, Cold Calls
After an employee email blast, volunteers poured in. Jimenez offered a Zoom training and emailed scripts and a student services resource toolkit. These empowered volunteers so outreach would feel more like conversations, less like cold calls.
Volunteers received weekly spreadsheets with at least 25 students to call or email. Beginning just after altered operations and continuing into the fall, San Jac Cares has included five phases so far:
Phase 1:

12,300 first-time-in-college (FTIC) students and students without distance learning experience

Phase 2:

12,900 randomly-chosen students enrolled in spring classes

Phase 3:

14,700 students not registered for summer or fall

Phase 4:

6,100 students not registered for fall

Phase 5:

5,000 FTIC students enrolled in fall classes
The primary goal: Checking on students. Are you doing OK? How is school going?
The secondary goal: Ensuring students had resources and information. Do you have a computer and internet? Do you know about the fall 2020 course delivery options? Did you know we have a food market?
"It's a little cliché — the expression 'It takes a village,'"
Dr. Harris said. "But all the employees support the students here in a host of ways. It's part of the experience when you come on a college campus…. When you move to a virtual environment, you lose that."
Whether students needed to review their academic plan or get counseling to cope with the pandemic, callers cut through the confusion, directing them to the person or resource they needed. Like Seratt, many wanted help but didn't know whom to call, so the College called them.
Two-Way Street
About 350 employees have volunteered for San Jac Cares, coming from areas like continuing and professional development (CPD), libraries, human resources, faculty, the strategic leadership team, and more. Some have served a few weeks, and others throughout the program.
Diesel mechanics instructor Charles Siegel volunteered from day one. Struggling with the online transition too, he got to coach students while motivating himself.
"It really helped me to help others during that difficult time," Siegel said. "I was able to place myself in the students' shoes — terrible fear of the unknown, need and desire for social interaction — while knowing I needed to be a guide to self-help, self-motivation, and self-reflection to help students [adjust to online classes]."
Aminta Rodriguez, CPD registration and services coordinator, also signed up.
Rodriguez recalls one student who had faced a landslide of challenges. He and his wife had lost their jobs, were sharing one laptop with their two kids, and were waiting on unemployment to pay the electric bill. She connected him to the College's laptop lending program, food market, and other resources.
"Sometimes benefits are there — resources are there — but people don't know they're available for them," she said.
San Jac Cares also had an unexpected benefit for employees: decreasing stress.
"Our College is a community," Dr. Harris said. "We connect with each other. The students are the reward of working at a college. Connecting with them has created that sense of community for employees as well."
"We Change Lives"
No one could have expected COVID-19 to show up with no expiration date, upending education and everything else. During a trying time, San Jac Cares broke through barriers, connecting students with compassionate voices and solutions.
Will the program extend beyond COVID-19? Dr. Harris acknowledges some uncertainty about the next steps: "For the foreseeable future, we'll do things that connect students to the College, that show we care and are here for them — connect them to resources."
But as a San Jac Cares caller herself, she realizes the power College employees have to change lives as they help students navigate crises or achieve their dreams.
"San Jac Cares reminds me how important the work we do is, whether it's face to face or from a distance," Dr. Harris said. "Many have unbelievable obstacles, hurdles to continue their education and complete their program. They keep at it because they believe their lives will be better. We change lives."