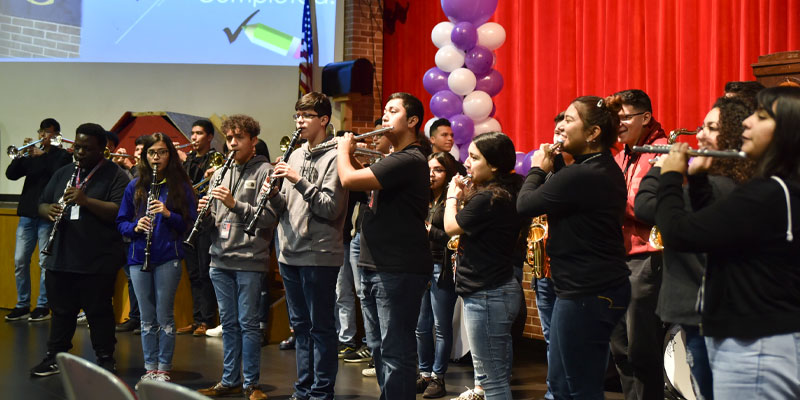 By Andrea Vasquez
As the cost of higher education continues to rise, the odds of completing any degree or certification drop lower each year. To boost those odds, not only in graduating college students but by creating a college-going culture among underrepresented high school students, San Jacinto College has partnered with Pasadena ISD and Good Reason Houston as participants in the Harris County Promise program.
Seniors from Pasadena ISD's Dobie High School, Sam Rayburn High School, and South Houston High School now have an opportunity to have their tuition and fees at San Jacinto College paid in full by becoming Harris County Promise Scholars. The Harris County Promise program is available to Texas resident high school seniors, regardless of GPA or family income. Eligible seniors who become Promise Scholars receive up to three years of guaranteed tuition and fees, assistance with books, and additional support to help them complete their degrees. Other participating Houston-area school districts include Aldine ISD (Aldine Senior High School, Eisenhower High School, Nimitz High School) and Alief ISD (Taylor High School), with partnerships with Lone Star College and Houston Community College, respectively.
"San Jacinto College's partnership with Good Reason Houston for the Harris County Promise program is transformative for our community and the students we serve," said Jose DejesusGil, San Jacinto College director of outreach and recruiting. "We have an incredible opportunity to support the college-going culture for underrepresented students and impact the education attainment levels in our area."
Student Azhia Alvarez says she doubts enrolling in college courses would have been possible without the Promise program.
"The Promise program has benefited me in such a good way by my parents not worrying about having to pay out of pocket for tuition," she said. "Being a first-generation college student, Promise is allowing me to be the first person in my family to attend college. I would definitely tell seniors in high school to complete the Promise Pledge and apply, whether they are still deciding to attend college or not. It's a great opportunity, and it's especially helpful for low-income students. I love that the Promise program was available during my first semester, because if not, I honestly do not think I would be attending college, so I'm completely grateful."
Promise is a last-dollar scholarship program covering the cost of tuition and fees at San Jacinto College. "Last-dollar" means the scholarship kicks in after all other grant and scholarship funding has been applied. To be eligible, students must qualify for in-district tuition (reside in the College's taxing district) and complete all steps by their associated deadline.
Promise Scholars also receive extra perks when they enroll in a partner college, including their own success coach to help navigate college life. The Promise pledge is the first step in the process. It is not binding, and students are not required to attend a Promise college.
Student Jessica Saavedra adds that in addition to the financial benefit the program is an investment in future success and opportunities.
"The Promise program has benefited me not only financially, but it has also made me stress-free since I'm not worrying about tuition and books," said Saavedra. "It has also helped me push myself to become better. It's not just a promise to the 'county' but a promise to yourself as well. Being able to be a part of the Promise program has also opened doors for me, such as being able to expand my education to get a better paying, skilled job that will lead to a happy and stable future." 
To learn more and to donate to the Harris County Promise program at San Jacinto College, visit sanjac.edu/harris-county-promise-program or sanjac.edu/year-end-giving.