By Melissa Trevizo / Photos by Melissa Trevizo, San Jacinto College
The fire protection technology training program at San Jacinto College just gained a powerful new asset. The College now boasts a new fire training field at the Maritime Training Center.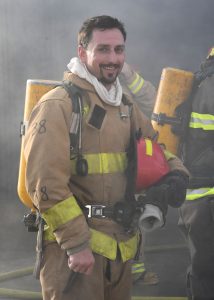 "We previously partnered with local municipalities to use their fire fields for the live fire portion of training," said John Stauffer, associate vice chancellor and superintendent of maritime. "With a field of our own, we are saving money on equipment rentals, and we are able to use our own instructors."
The new fire field offers a natural gas fed fire trainer, allowing fire protection technology students to confront kitchen, residential, and motor/generator fires. Additionally, the fire field allows students to extinguish various types of fires using portable extinguishers.
"We basically have been able to burn every couple of days," Stauffer said. "By owning our own equipment and running our own live fire trainings, we can burn as often as needed without the added cost."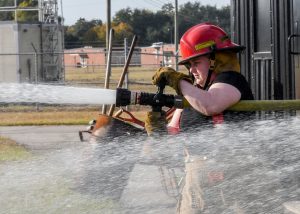 The fire technology training program consists of seven firefighting courses spread over two college semesters. Students who successfully complete the program requirements and the Texas Commission on Fire Protection Basic Suppression certification exam will be able to work as a firefighter in the state of Texas.
Through international accreditation agreements, certified firefighters may also work as firefighters in many other states. 
To learn more about the program, visit www.sanjac.edu/program/fire-protection-technology.