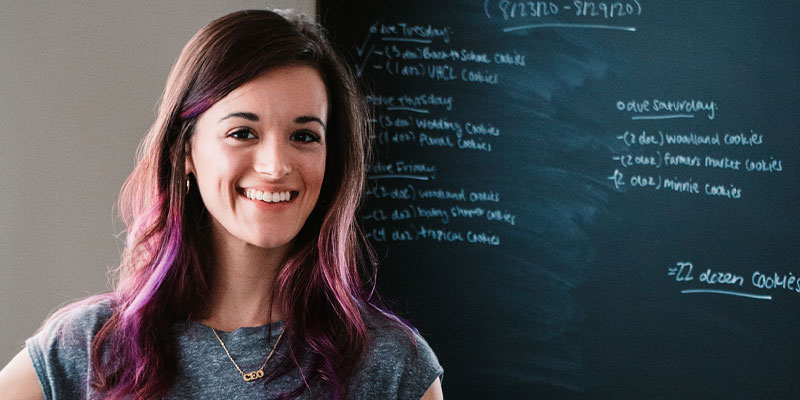 By Courtney Morris / Photos courtesy of Gavin Calais Photography
Sydni Calais loves baking. Look no further than her 430 multicolored cookie cutters hanging on wall hooks or the two KitchenAid stand mixers crowding her countertop.
But what looks like an obsession is an occupation for the 25-year-old San Jacinto College pastry chef graduate. In April 2018, Calais turned her side hustle, Sweets by Syd, into a full-time gig. Now she's living the sweet life.
"This Is It"
Calais seemed destined for a culinary career. As an aproned, flour-dusted three-year-old on tiptoe, she mixed brownie batter with her grandma and squealed to lick the bowl clean. Her other grandma ran a Lebanese restaurant and stocked local grocery shelves with her seasonings.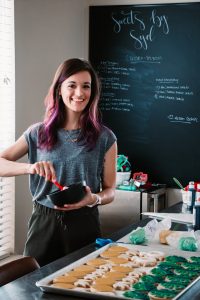 "My family always loved food, being in the kitchen, and creating memories around food," Calais said.
When cake pops were trending, the high school senior made some and divvied them out to classmates. Her math teacher, JuleeAnna Lee, tried one too.
"I'm not lying — it was the best thing I had ever put in my mouth," Lee said.
Soon the teacher was ordering cake pops for a wedding shower, ballgames, and other special occasions. She suggested business cards and the name Sweets by Syd.
With her spark ignited, Calais created an Instagram and advertised for the holidays. Having debated between a cosmetology or art career, she now chewed on another idea.
"When I started making cake pops, it was something pretty you could also eat," she said. "I realized: 'This is it.' I'm going to go to school for this."
Penchant for Pastry
At San Jacinto College's North Campus, Calais pursued an associate degree in culinary arts with a pastry chef specialty. Although visions of a cute mom-and-pop danced in her head, she mastered five-layer desserts, cream puffs, and mass production in her classes. She expanded her skill set while crafting a business plan.
"It was interesting to learn a different side of baking," she said.
Culinary arts program director Andrea Huerta remembers Calais' precision, which helped her excel in school while expanding her business.
"Sydni was a stand-out student because of her passion to get things just right," Huerta said. "She was very detail oriented and really had a good eye for making things aesthetically appealing."
While completing her degree, Calais also got hands-on restaurant and bakery experience. She served briefly at a sushi bar and baked four years at Rise Cupcakes, where she discovered her true passion: cookies.
But in spring 2018, the 60- to 70-hour workweeks between the Rise job and side hustle pushed her to the limit. The happy ending? Sweets by Syd went solo.
Chance of a Lifetime
In her home near Minute Maid Park, Calais performs her magic at an 8-foot stainless steel worktable. Bakery racks, pastry bags and brushes, icing buckets, cookie projector, and edible printer stand at the ready. The main event: vanilla shortbread glazed with donut icing and detailed with royal icing. Sweet with a sturdy but soft bite.
Custom designs include almost anything you can imagine, from Dr. Pepper cans and Ball mason jars to celebrities like Ariana Grande and Beyoncé.
Calais has racked up 7,000-plus followers — including wholesale clients — through word of mouth, Instagram, and Facebook. Also boosting her brand are her classes, giveaways, and how-to cookie decorating videos.
"You have to keep making sure your name is showing up on other people's feeds," she said.
Sometimes her cookies speak for themselves. A Houston blogger related to Chance the Rapper's fiancée saw her cookies at a Kendra Scott event and asked whether she could ship portrait cookies for Chance's California wedding.
First, Calais had to pick her jaw off the floor: "I asked, 'Are you serious? Are you joking? He's my favorite rapper.'"
She Googled photos of the bride and groom and traced the projected images with royal icing onto the glazed cookies. All four dozen cookies arrived in perfect shape.
As much as she likes big-name clients, Calais still enjoys her regular customers, which include her original.
"I order from Sweets by Syd every chance I get," Lee said. "Sometimes I just make an excuse. She is my go-to girl."
Growing Pains
Despite the cookie craft's fun side, it's not easy being a one-person show.
"I'm also the photographer, content creator, website editor, videographer, order taker, data entry person, and tax person while keeping up with trends, inventory, buying/recruiting, and planning," Calais said.
When events slowed because of COVID-19, business also dropped off. She adapted by creating decorating kits for homebound kids and quarantine-themed cookies featuring Purell bottles, toilet paper, and medical scrubs.
As orders build again, Calais is outgrowing her space. She pumps out 20 dozen cookies in an average week, up to 50 dozen around holidays. She is updating her San Jac business plan, toying with a brick-and-mortar where guests can savor sweets and socialize.
"Overhead is very expensive," she said. "I would love to eventually have a storefront, but I'm wanting to see if that would be a smart move."
Sweet Dreams
Whether she expands or stays home-based, Calais has enjoyed the entire journey. Her advice to would-be entrepreneurs? First, work under others in your field: "You might have to build someone else's dreams for a while."
"[Then] I would say absolutely go for it," she said. "It's so rewarding, so wonderful."
From its humble beginnings as a high school cake pop affair to today, Sweets by Syd boasts the ultimate sweet success.
"I get to be a small part of the biggest moments in people's lives," Calais said.
 Sweets by Syd offers custom pick-up orders. Learn more at www.sweetsbysyd.com. 
---
Sweet Cheat Sheet
In an average week, Sydni Calais blows through…
25 pounds of flour

10 pounds of sugar

20 pounds of icing

14 cups of coffee