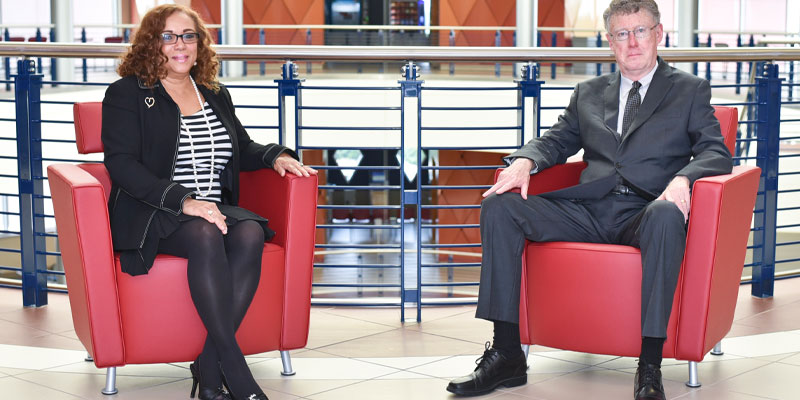 By Andrea Vasquez / Photos by Andrea Vasquez, San Jacinto College
It's not easy saying goodbye to people and places you have dedicated most of your personal and professional life to. San Jacinto College provosts Dr. William Raffetto (North Campus) and Dr. Brenda Jones (South Campus) are experiencing this after recently retiring.
Raffetto and Jones have contributed more than 55 years of leadership, counsel, and expertise to the College. Serving on the strategic leadership team, they helped pass the College's 2015 $425 million bond referendum, which funded renovations, technology, and new facilities. Under their leadership, the College also received the 2017 Aspen Institute Rising Star Award and its third consecutive nomination as a top 10 finalist for the Aspen Prize for Community College Excellence.
Raffetto began his San Jac career in 1984 as the South Campus dean of student services. Renowned for his storytelling, he has also built high-functioning teams through his knack for coaching others on their strengths.
"I hope people will remember me as the administrator who had the courage to tell people what they needed to know rather than what they wanted to hear," he said.
In his 36 years here, Raffetto also served as vice president of both student services and enrollment services. He published articles in academic publications and represented the College in state and local professional organizations: Texas Association of Community College Deans of Students, Texas Guaranteed Student Loan Corporation, Junior College Personnel Association of Texas, South Belt Rotary Club, and North Channel Area Chamber of Commerce.
In 2015, Raffetto created the Read Across North Campus program to inspire love of reading and provide access to interesting books. Coinciding with Read Across America/Dr. Seuss Day, the annual book drive provides all kinds of free books to students. To date, North Campus faculty and staff have donated more than 7,000 books for the program.
Raffetto says his professional service comes down to the people.
"I am very grateful to have worked with very smart people who are dedicated to student success and to improving the lives of others," he said. "Hiring good people, having confidence in them to do their job, and assisting them with their professional development has been one of the most rewarding things in my administrative career."
His retirement plans include attending his two grandsons' soccer games and reading, which has always consumed his free time.
Raffetto holds a doctorate and master's from Texas A&M University-Commerce and a bachelor's from Duquesne University.
Jones has also left her mark on the College. In 2001, she began working at the College as an adjunct professor in the Central Campus business management department, then served as the program coordinator for corporate education in the Continuing and Professional Development Division. She served as dean of business and technology and the interim vice president of learning before being named the South Campus provost after a national search in 2012.
"Being a part of the remarkable leadership of this phenomenal organization has been one of the greatest achievements of my career," said Jones. "We have the very best forward-thinking board of trustees and strategic leadership team leading the College. These innovative leaders  — along with our faculty, staff, and administrators  — truly understand the importance of putting our students and their success at the heart of everything we do."
During her 19 years here, Jones focused on industry, community, and educational partnerships. She helped establish Pearland ISD's Robert Turner College and Career High School and Pasadena ISD's Dr. Kirk Lewis Career and Technical High School and new early college high school facility on the South Campus. She also helped create the College's biomedical clinical equipment technician program and secured the College's transfer partnership with Baylor University. She participates in the Clear Lake City and Pearland chambers of commerce and serves on the Pearland Economic Leadership Council and Capella University Community College Advisory Council.
Jones calls the students and employees she has mentored over the years her greatest achievement. Mentorship is at the core of Jones' leadership DNA.
"One of the most rewarding aspects of my job has been personally serving as a mentor to some of the brightest students and employees at San Jacinto College," she said.
Many of these have attended top universities nationwide or advanced to top leadership positions at the College.
"It's been a great joy to have been a part of their success, and I consider all of them legacies, not only for me but for our College, which will benefit from their knowledge and leadership for years to come," she said.
Jones has received many awards for her visionary leadership: Association of Educational Office Personnel Boss of the Year Award, Chair Academy Idahlynn Karre International Exemplary Leader Award for global leadership in higher education, San Jacinto College Excellence Award for administration, Phi Theta Kappa International Honor Society Shirley B. Gordon Award for administrative institutional support, PTK Alumni of Distinction, Phi Beta Lambda Businessperson of the Year, and Outstanding Women in Texas Government – Outstanding Leadership Award
Jones and her husband look forward to the adventures ahead in this retirement chapter. While they have postponed globetrotting because of COVID, they are taking a few domestic trips.
Jones holds a doctorate from Texas A&M University and a master's and bachelor's from the University of Houston-Clear Lake.
Both Raffetto and Jones share these tips for aspiring, new, and veteran leaders.
"Be willing to compromise on processes, but never compromise your principles. Never lose sight of the mission of your organization," said Raffetto.
"Know when to lead and when to follow," said Jones. "Acknowledge when you are wrong, and know that you don't always have to be right. Never get so big that you forget to be humble. Show others you appreciate them and the work they do."
According to Chancellor Dr. Brenda Hellyer, Raffetto and Jones' impact will continue to move the college forward.
"Bill and Brenda have been profoundly instrumental in establishing San Jacinto College as a leader in higher education," said Hellyer. "Throughout their tenures, they have built new, innovative College programs, committed to steadfast student success, and created a culture of transformational and servant leadership. We wish them both a wonderful, happy retirement." 
---
Now settling into their new roles, North Campus Provost Dr. Alexander Okwonna and South Campus Provost Dr. Aaron Knight are continuing the great leadership the College is  known for.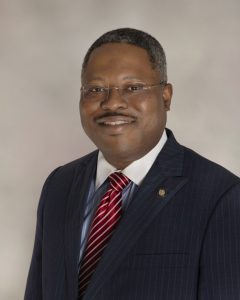 "Dr. Jones and Dr. Raffetto have had many admirable achievements and have left a lasting legacy on the College. I look forward to continuing that legacy and building on their accomplishments.As a proud community college graduate, my educational journey mirrors that of many of our students. I understand many of their challenges both inside and outside of the classroom. As I interact with them, I see a piece of my personal story in each one of them, and this drives my commitment and passion for eliminating barriers to student success."
– Dr. Alexander Okwonna
---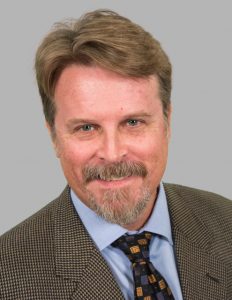 "Both Dr. Jones and Dr. Raffetto leave behind legacies of strong, positive leadership. We will all work together to build on the foundation they helped to build and wish them all the best in retirement. San Jacinto College is a leader in the region and the nation when it comes to helping students work toward program completion. That means a lot to me. When you help students obtain their educational goals, you strengthen our region's economy, and more importantly, you improve their quality of life. I'm glad to be a part of that and to help in any way I can."
– Dr. Aaron Knight