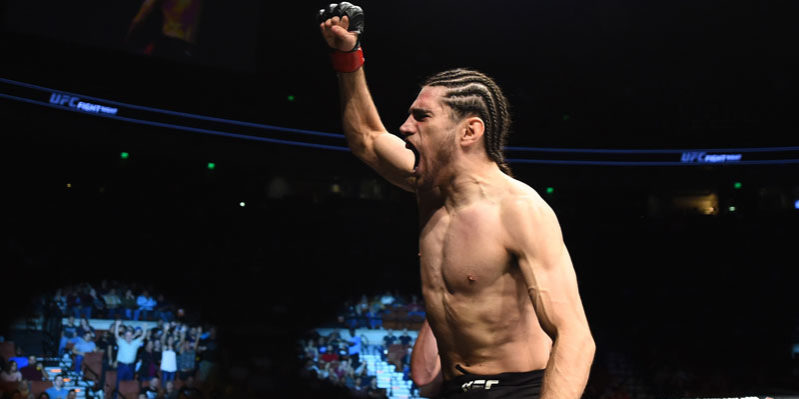 From nine to five, Roberto Sanchez is a mild-mannered actuarial analyst for American National Insurance, but in the evening, he becomes 'Little Fury' a name given to him for his stature and dominance in the Ultimate Fighting Championship (UFC).
Sanchez, a Houston native, graduated from San Jacinto College South Campus with an associate degree in mathematics in 2009, after changing his major several times.
"After I graduated high school, I wasn't sure what I wanted to do with my life," Sanchez said. "I tried architecture, engineer and teaching until I settled on math."
While searching for his major one thing always remained constant, his love for mixed martial arts (MMA) particularly Brazilian Jiu Jitsu.
"One day I was walking around San Jac and I saw that there was a martial arts club," Sanchez said. "The person teaching the class taught us basic moves. I had been training with my brother at that time and knew the moves already. It wasn't long before I became president of the club and led the class instruction."
After his graduation from San Jacinto College, Sanchez transferred to University of Houston-Clear Lake and earned a bachelor degree in mathematics in 2012. In that same year, he became a high school teacher, got married and won his first amateur MMA match.
"I really developed a love for fighting, but I was still working 80-hour weeks as a teacher and I knew one of my passions was going to have to give," Sanchez said. "After speaking with my wife Natalie, I knew what my decision was. I was going to pursue a career in MMA."
In 2015, Sanchez won TXMMA Rookie of the Year for going 3-0 as a pro in the Legacy promotion. He also began studying to become an actuarial analyst to have a career that would support his family without working over 40 hours a week.
"There are a lot of fighters that do MMA full time," Sanchez said. "You either have to fight more often or work part time. I take my time and lean back on whatever income I have coming in. That allows me to be strategic in what fights I take."
In 2017, Sanchez went pro with the UFC. He holds a 8-1-0 record with seven wins coming by submission.
"I like wining without injuring someone," Sanchez said. "I like to win by submission. If I can take them down quickly and no one gets injured that's a huge win in my eyes."