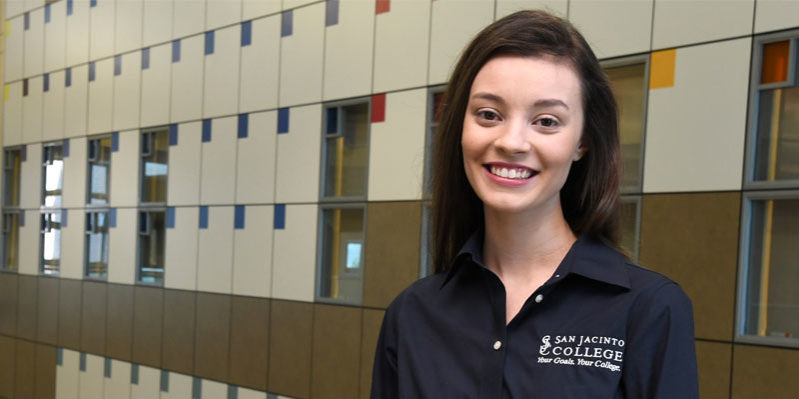 San Jacinto College student Hope Cory has been appointed by the Texas Higher Education Coordinating Board (THECB) as a student representative.
"This is an amazing opportunity that I'm so thankful for," said Cory. "I was encouraged to apply by my advisor and I'm excited to get to work."
Cory, who graduated May 12, will take on her new role as a THECB student representative in June. As a student representative, she will serve on the committee for undergraduate education with an emphasis on the 60×30 strategic plan. This THECB strategic plan has set a goal that by 2030, at least 60 percent of Texans ages 25-34 will have a certificate or degree.
"I think it's amazing to set that huge goal," Cory said. "I'm excited because it facilitates pathways for students, employers and so many other avenues not only at San Jac, but all over the state."
This is not the 21-year-old's first foray into the world of politics. She served as the San Jacinto College North Campus' Student Government Association president for the last three semesters and was chosen to attend a trip to Washington D.C., with the Economic Alliance Houston Port Region to meet and speak with Texas representatives.
"Being SGA president has been amazing," Cory said.  "It's more than a resume builder. I'm involved because I'm passionate about meeting students' needs and being a liaison between teachers and students."
Currently, Cory plans to transfer to the University of Houston-Clear Lake and major in public policy.
Now, as a graduate from San Jacinto College, Cory will pass the torch on her SGA presidency.
"I fell in love with San Jac and I don't want to leave," Cory said. "I love how much the faculty are encouraged to support student, to show interest and support. My SGA advisors have made a huge impact on me in the last year and a half. The will continue to be my life mentors."