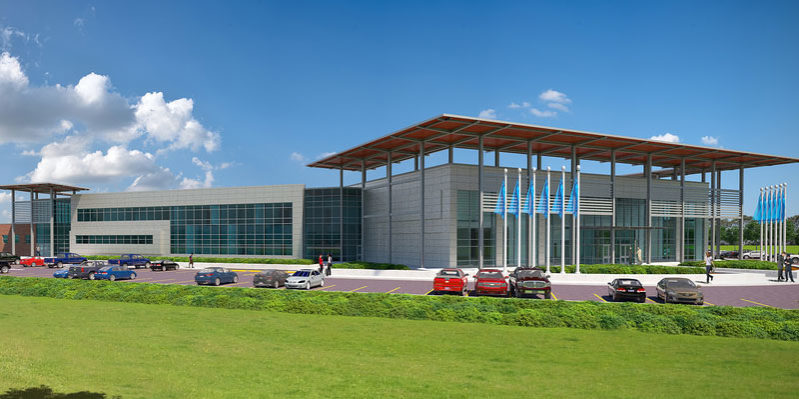 While driving along Fairmont Parkway in Pasadena, Texas, one might notice the 145,000-square-foot structure taking shape on the edge of the San Jacinto College Central Campus. When it opens in 2019, it will be the premier petrochemical training facility for industry, designed and built by industry.
San Jacinto College broke ground on the Center for Petrochemical, Energy, and Technology in September 2017. It is positioned to change the face of how process operators and other key technicians of a plant are educated and trained for the petrochemical industry. This is a result of conversations between the College and industry partners which were established before the planning of the Center.
"From the beginning stages of planning, industry has had a seat at the table for the vision, the design and curriculum of the Center for Petrochemical, Energy, and Technology," said Jim Griffin, associate vice chancellor / senior vice president for the College's petrochemical training division. "This ensures that we produce graduates with the right skill sets to meet the workforce needs, and that industry maintains an active role in the training."
To gain insight into exactly what the industry needs, Dr. Brenda Hellyer, San Jacinto College Chancellor, invited a wide range of industry leaders to serve together on a Petrochemical Advisory Council. Companies have given their input and donations as the Center will be available to use by their workforce. INEOS has donated $250,000 and will receive naming rights for one of the Center's skills labs. Hunter Buildings have donated a blast resistant building that is now part of most plant sites. This building will be used as a training space for outside operators and house the Motor Control Center for the glycol unit. Eaton engineer Amber Wright has designed the electrical labs, and the company will donate training equipment and most of the electrical components for the glycol unit. Tracer Construction is donating the electrical heat tracing system for the glycol unit. NiSoft is donating a safety program package.
The Center will house programs in process technology, instrumentation, electrical, nondestructive testing and craft trades. An environmental health and safety culture will be built into the curriculum with the latest in Occupational Safety and Health Administration (OSHA) regulation coursework with emphasis on Process Safety Management. This will include students wearing uniforms like that of operators in a plant and operating within a set schedule similar to plant shift work. The Center will include adequate space to teach credit students and incumbent workers. An 8,000-square-foot exterior glycol process unit will be available to every program that trains in the building. It will also be used to develop troubleshooting skills for entry, advanced credit students and incumbent workers. Additional features will include the newest software programming, equipment and technology; and conference, training and assembly spaces.
Follow the developments of the San Jacinto College Center for Petrochemical, Energy, and Technology at sanjac.edu/CPET.