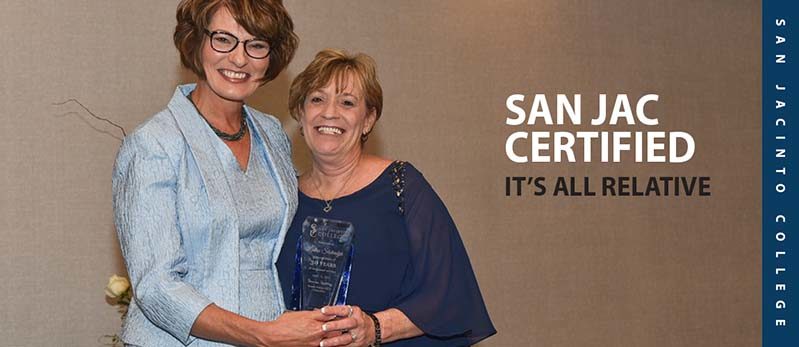 The Sloterdijk family can say that San Jacinto College has had a lasting impact on two generations of their family. Laura Sloterdijk, her sister, and her two children, Michael and Amy, all attended the College.
Laura Sloterdijk currently serves as the Coordinator of Division Operations for Business and Technology on the San Jacinto College Central Campus and was recently recognized for 30 years of service to the College. "I'm grateful that I have been blessed to work at this institution and with my San Jac family for 30 years," she said.
Sloterdijk earned her General Education Diploma (GED) from San Jacinto College and eight years later became a part of the Job Training Partnership Act (JPTA) program at San Jac, where she received a one-year secretarial certificate. She was then hired by that same program to work as a bookkeeper. After her daughter, Amy, was born in 1990, she decided to return to school to earn her degree. She worked full-time at the College while caring for two children. Six years later, she completed her associate degree in office administration.
Her drive and love of education has inspired several family members to also attend San Jacinto College, becoming a part of the San Jac family. Her youngest sister, Charlotte Cheatham, took classes at the College and is now working on a master's degree in business. Her son, Michael Chapa, needed 15 hours to enlist in the army so he pursued his occupational certificate in welding from San Jac. And her daughter, Amy Sloterdijk, received her associate degree in registered nursing and is currently attending San Jac taking courses toward a bachelor of science degree in nursing with the hopes of transferring to the University of Texas-Arlington (UTA).
"My kids knew my education made a difference in our lives and education would make a difference in their lives" said Sloterdijk. "I instilled the need for education not only in my kids and family members, but also in friends and strangers I would meet."