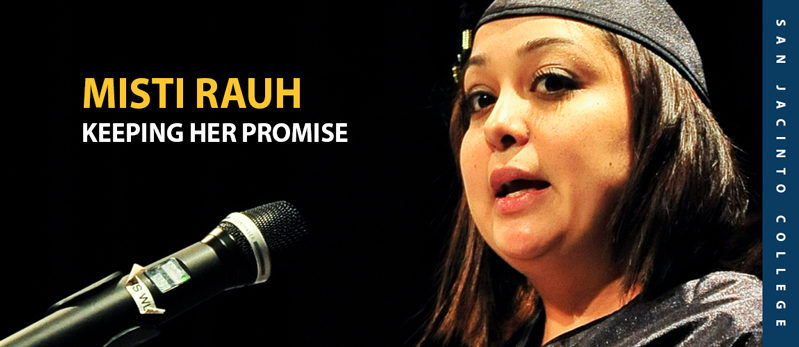 By Andrea Vasquez
In 2013, Misti Raugh completed her Associate of Applied Science in Business Management Supervision from San Jacinto College, a life-changing milestone that took her eight years to accomplish. Despite life's many obstacles along the way, she turned her story into one that still inspires students to accomplish their goals and use the gifts that a higher education provides.
After graduating high school in 2001, Rauh had to put college on hold when she became a single parent in 2002 after her first daughter was born. The following year, she met her husband, John, who would ultimately become one of her biggest supporters to finish her degree. Her late grandfather was her biggest motivator, even buying her a car so that she could to and from school with the promise that she would complete her degree.
"I also had an amazing work family," said Raugh. "In 2006 I was working full-time at the College as an admissions advisor when I made the decision to being taking classes to get my associate degree. My co-workers altered their own work schedules to allow me to have time to attend classes and tutoring sessions. They supported me 100 percent, and I am still beyond grateful for their support and encouragement."
During her first semester of college, Rauh became pregnant with her second daughter. Later on, her husband was diagnosed with a spinal disease and declared permanently disabled and could not continue working. This nearly derailed her goal of completing her associate degree, but she was reminded of her promise to her grandfather.
"As an admissions advisor, it is one of my greatest pleasures to assist students in becoming graduates," she said. "At the end of the day, we all have different motivations and have traveled different paths to get here, but we realized that it takes dedication to our dreams and courage to ask for a hand up and not a hand out."
In July Rauh will complete a second associate degree, an Associate of Arts in Business. This fall she will begin courses toward her Bachelor of Science in Applied Science- Business Administration at Tarleton State University.