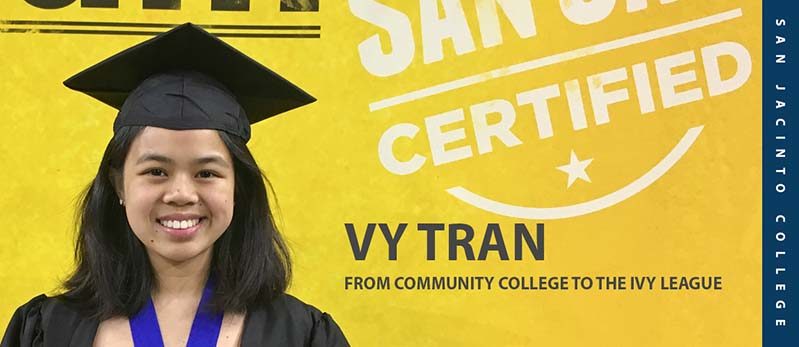 By Andrea Vasquez
Vy Tran will be one of the newest juniors walking the halls of ale University this fall. She is one of a number of Clear Horizons Early College High School (CHECHS) students who continue to raise the bar of educational excellence with the foundation they received at San Jacinto College.
Now in its 10th year in a partnership between Clear Creek Independent School District and San Jacinto College, CHECHS students simultaneously attend college courses while completing high school diploma curriculum requirements. In result, the students graduate high school after receiving an associate of arts degree.
"Choosing to go to CHECHS is a huge decision," said Tran. "When you're in eighth grade you don't really know what you're signing up for, but you get used to the rigorous course work and the expectations you're held to as a college student."
While completing college and high school courses simultaneously does have its academic advantages, Tran also adds that CHECHS also provides students with a unique learning environment. "CHECHS is very diverse. It's not a stereotypical high school; everyone is really friends with each other which is something we all benefit and grow from. You really do get the freedom to become your own person and not just be an average high school student."
The CHECHS class of 2018 is the largest to date, graduating 102 seniors with 94 receiving their high school diplomas three weeks prior to graduating from high school. Tran received more than $1 million dollars in scholarship funds, and the class as a whole received $4,960,019 in scholarships.