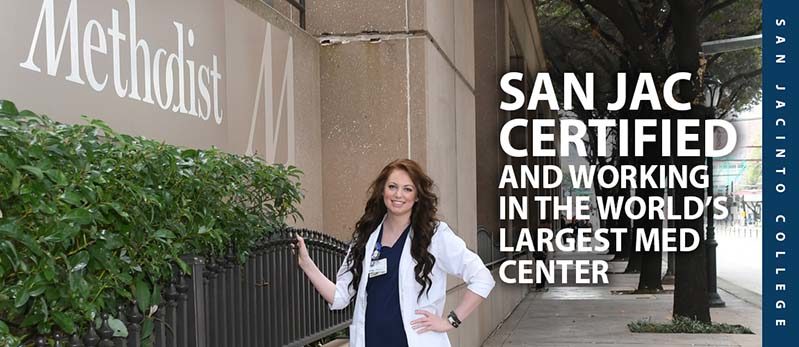 The Texas Medical Center is filled with what is regarded as some of the world's best physicians and nurses, but there are additional medical professionals that help keep the Center's highest standard in
health care.
Jessica Lowe, a radiographer/radiologic technologist with Houston Methodist Hospital, is one of those professionals. She enjoys the career that medical imaging has brought her. Each day brings new challenges as she reports to the hospital's Outpatient Center in the Texas Medical Center, producing radiographic images and magnetic resonance imaging (MRI) scans because she holds an associate degree in radiography and a certificate in the advanced imaging modality MRI from San Jacinto College.
"I feel like this is the type of opportunity so many people pursue," said Lowe, who sought a career in medical imaging after working in the restaurant industry. "Where I am in my life right now, and knowing that I did it with a two-year degree and am debt free, I couldn't be happier."
Lowe's story is like many who choose to work in the health care area of medical imaging. The opportunities within this field are endless, according to Dianne Phillips, San Jacinto College medical imaging department chair. At San Jacinto College, the medical imaging department offers two associate degrees, radiography and sonography; and certificate programs in the advanced imaging modalities of MRI, mammography and computed tomography (CT). All candidates pursuing the advanced modalities must be registered through the American Registry of Radiologic Technologists in radiography and hold a Medical Radiologic Technologist License from the Texas Medical Board.