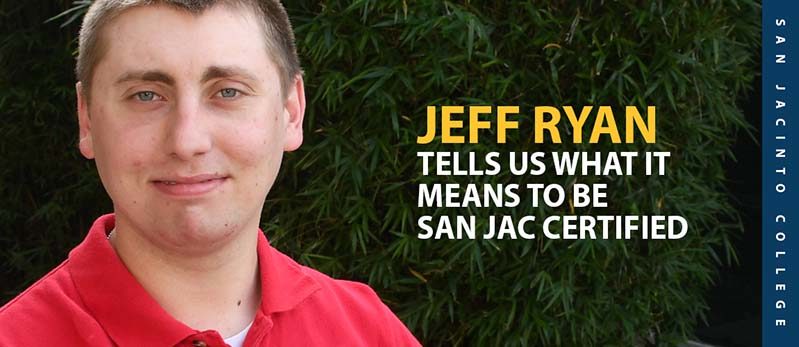 What does it mean to be San Jac Certified?
Jeff Ryan has the answer.
It means graduating from a national Top 5 community college, getting involved on campus and developing a strong college resume.
"It feels wonderful to graduate from a Top 5 college, having met so many people, and serving on the instructional and student services council," said Ryan. "During my time at San Jacinto College, I felt my input was always considered and made a difference."
Ryan served as the 2015-16 and 2016-17 Student Government Association president at the San Jacinto College South Campus and became involved in the emerging leaders program that met on campus each Friday. He also became a member of Phi Theta Kappa in 2016.
He earned his associate degree in social and behavioral sciences from San Jacinto College, debt free, and now has his sights set on studying criminology and public service leadership at the University of Houston-Clear Lake.
"My education at San Jacinto College prepared me through the leadership skills opportunities and the advice from faculty," said Ryan. "I would highly recommend that everyone attend a two-year institution because you'll get to know your professors build that relationship to help you with your field of study."