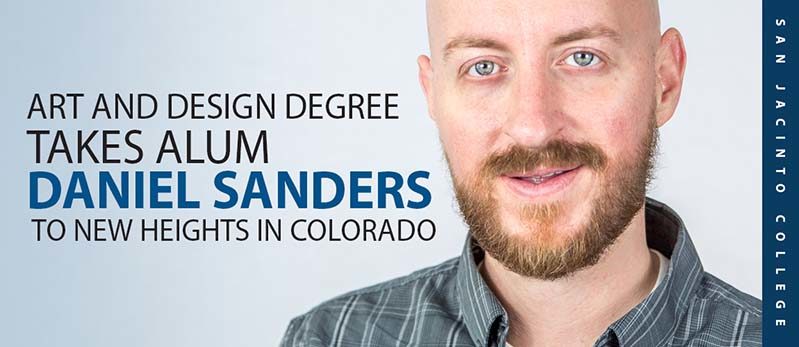 Before enrolling in San Jacinto College, Daniel Sanders dabbled in different artistic mediums but couldn't pin down one that he preferred.
"I enjoyed all of them," Sanders said. "I loved graphics and photography. Every aspect of design interested me."
It was only after browsing a course catalog from the College, that Sanders discovered the art and design program and something clicked.
"Art and design is so comprehensive. The fundamentals you learn there extend into so many industries," Sanders said. "Whether you intend to pursue a career as graphic designer or just have an interest in art, you will use these skills."
With his degree, Sanders has enjoyed a diverse career in the arts.
"I have worked in video production producing commercials, promotional and instructional videos, concert productions and everything in between," Sanders said. "I moved into the commercial photography world and now specialize in Architectural photography. Since then, I have refined my mindset and skills and now run a marketing agency in Steamboat Springs, Colorado."
As a passionate advocate for the arts, Sanders offers advice to students looking to pursue a career in art and design.
"Soak it in, don't become stagnant and never stop learning," Sanders said. "It's not always a glamorous career path, and you will do a lot of projects that you are not passionate about. But the first time you see a piece of work you've put your heart and soul into displayed for the world to see it all pays off. That becomes your drive to keep producing and making an impact in this world."
For more information on the art and design program, visit sanjac.edu/career/art-design.