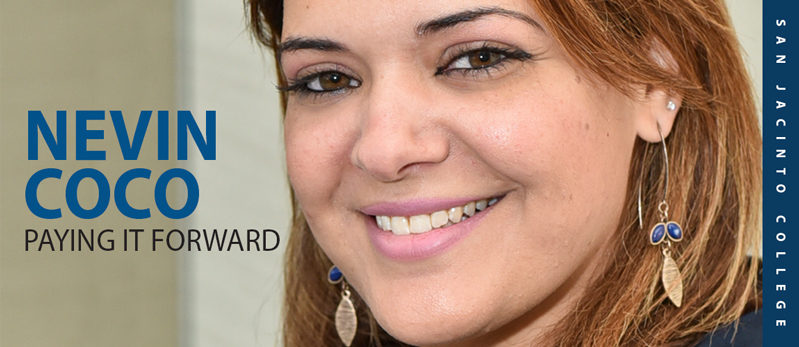 By Andrea Vasquez
It would be hard to find a student at the San Jacinto College South Campus who hasn't been helped in some way or another by Nevin Coco. Her welcoming smile, infectious laugh and understanding personality have guided a number of students through their first years of their college experience.
As the Division Operations Coordinator for the liberal arts department, Coco wears many hats, enabling her to assist with both administrative and student concerns. She says that her drive and motivation began nine years ago when she was a student at the College and met her mentor, who was her professor at the time, South Campus Provost Dr. Brenda Jones.
"I will never forget my awesome professor and mentor Dr. Brenda Jones," said Coco. "She helped me overcome my fear when I first came to the United States as an international student, and her love and support throughout all these years has helped me become the person I am today. When you truly love what you do, the motivation for continuous improvement is inherent."
Because Jones continues to mentor her, Coco wanted to find a way to pay it forward and joined the College's Women of Integrity mentoring organization as a campus advisor and mentor in order to serve as a mentor for female students. "I became a mentor and an advisor to enable students to reach their goals and become successful. I want to give them the same continued support Dr. Jones gives me. Student success is my number one priority, and I am honored to be a part of an institution like San Jacinto College where I can do this for our students."
Currently, Coco is pursuing her Bachelor of Applied Arts and Sciences in Network and Security from the University of Houston- Victoria.