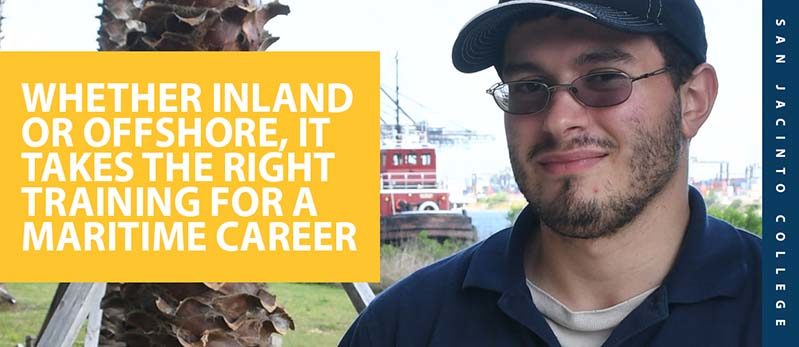 John Erlich's journey into maritime is proof there is more than one way to break into the industry.
After completing high school, he set out to enroll in a maritime academy and was well on his way to studying marine engineering. However, life happened; Erlich took a break and had to rethink the direction of his education and career paths. He then found the San Jacinto College maritime program and the guidance he needed from the very beginning.
"There are a lot of professional training academies out there but very few really have the knowledge base and staff to know what you need," said Erlich. "I think the biggest thing I noticed about San Jacinto College was the staff. They knew the regulations, the ins and the outs of training for the maritime industry."
Erich enrolled in the San Jacinto College maritime program and quickly gained summer internship opportunities with companies like G&H Towing, something that can be hard to find at many maritime schools, he said. Because of these opportunities, he was interviewed and hired at Martin Marine as a deckhand prior to his graduation from the College in 2016. Although his experience working inland brought the work experience he needed, he noticed more offshore jobs becoming available, applied and was hired by Exxon Mobil for SeaRiver Maritime, Inc.
"San Jac has a lot of industry partners, and this is one reason why students are able to get commercial internships," said Erlich. "Students struggle with this at other places, but not at a San Jacinto College."
After a year working as a professional mariner, Erlich is returning to San Jacinto College to increase his credentials to expand his work opportunities as a mariner. It's a well known fact that mariners must keep their United States Coast Guard (USCG) certifications credentials current. To work in liquid cargo transfer, Erlich needs the tankerman tank ship Person In Charge course.
"For many years, mariners didn't have maritime training like this in Houston so when this opened, it was a big deal for many of us," said Erlich. "If you need help with any of the endorsements, they know exactly what you need."
Since 2010, the San Jacinto College maritime program has awarded more than 5,500 USCG-approved course completion certificates. The College also introduced the state's first associate degree program in maritime transportation to train those new to the maritime industry. Last year marked the opening of the San Jacinto College Maritime Technology and Training Center on the Maritime Campus in La Porte, Texas, to offer more training opportunities for mariners in the Gulf Coast region. For more information, visit sanjac.edu/maritime.